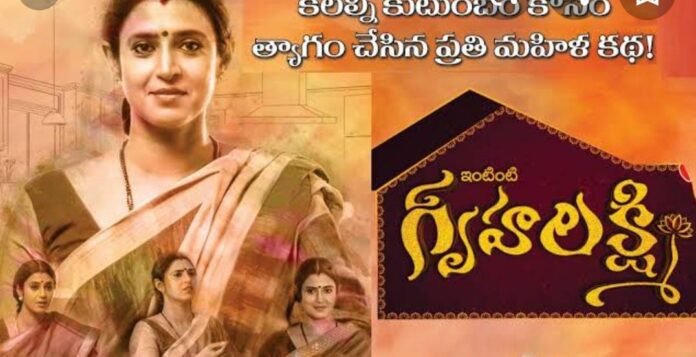 Intinti Gruhalaxmi Upcoming Story, Spoilers, Latest Gossip, Future Story, Latest News and Upcoming Twist, on Justhowbiz.net
Episode starts with Gayathri scolds Abhi and warns him to don't use their money for his Dad. Abhi asks her to understand the situation but Gayathri won't listen to him and asks him to return her amount immediately and cuts the call.
Ankita asks what happened. Abhi says I told you before itself it won't happen and now your Mom want us to return her money immediately. Prem says don't think about anything Mom, call Seth ji for money. Tulasi calls Seth ji and asks him to arrange 10lakhs for her husband operation with their house papers.
Seth says I can't give you money seeing previous incident. Tulasi request him. Seth says still I remember how much insult I faced because of your family members, go and ask your friend he may help you. Prem asks what happened. Tulasi says he denied to help us. Both of them thinks what they have to do to arrange money.
Bhagya feels bad for Nandu. Lasya says I'm feeling tensed thinking how Tulasi and others gonna make arrangements for operation because they don't have any money. Bhagya says you have 10lakh deposit right, use that money for Nandu operation. Lasya says I don't have job and that 10lakh is source for me and my son so can't spend my money for Nandu operation. Bhagya looks on.
Doctor says patient condition is serious and you're risking his life while thinking about money, according to hospital rules we can't perform operation until you guys pay the amount. Prem says we will pay the amount for sure so please perform operation taking our house papers. Doctor says they can't mortgage properties. Anasuya begs Doctor to perform operation but Doctor denies. Vamsi reaches to hospital and tells them that Rohit send him to help her and asks her how much they needs to pay. Tulasi says they can arrange it.
Doctor says patient condition is serious and these people are hiding it from you, pay 10lakhs for his surgery. Vamsi asks why she is hiding? Tulasi says she don't want to take regular helps from Rohit using their friendship. Vamsi says it's needed time so don't deny the help. Doctor asks him to pay the amount. Vamsi assures Tulasi that nothing will happen to Nandu and goes to pay the amount.
Doctor performs the surgery and informs to family members that Nandu is out of danger. Whole family feels happy knowing it. Tulasi thanks her. Doctor asks them to thank the person who gave them money and leaves after telling them that they can see Nandu after sometime.
Nandu father and Vamsi asks Tulasi to relax and Vamsi says he will inform it to Rohit because he will be happy. Tulasi thanks him. Vamsi says Rohit deserves her thanks because he is the one who helped her and leaves from hospital. Tulasi asks Everyone to go to home and stays at hospital. Tulasi goes to Lasya and says don't act like you love him, you have fixed deposit still you didn't use it thinking about yourself.
Precap – Lasya gets shocked knowing she came to attend interview for Tulasi PA post.