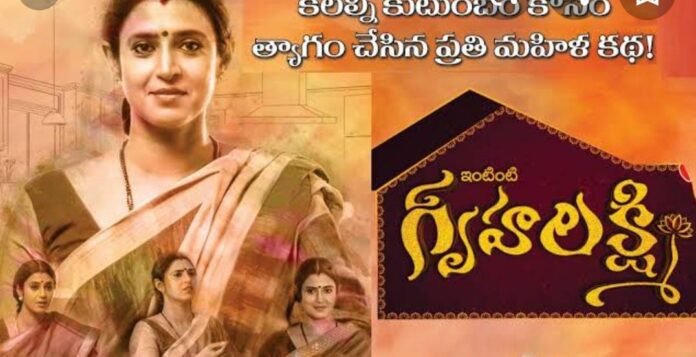 Intinti Gruhalaxmi Upcoming Story, Spoilers, Latest Gossip, Future Story, Latest News and Upcoming Twist, on Justhowbiz.net
The episode starts with Tulasi says I know that you have 10lakhs fixed deposit, if you really love Nandu than you may use that money for his operation when we didn't get money but you didn't thinking about yourself that's itself enough to tell that you're correct for Nandu and if I travel it to family members and Nandu than they will throw you from house immediately but I'm not telling it to Nandu thinking it's not correct time but remember one thing, very soon your crimes will be out and you will be out from our house to roads. Lasya looks on.
Next day Nandu gains conscious and sees Tulasi in his room. Nandu father asks how's he. Nandu asks how they payed hospital bill? Will you guys mortgaged the house? Nandu father says don't think about it, we will take care of it. Nandu says I'm thinking whether I can repay the amount or not. Nandu father says we tried hardly but we couldn't get money and at last moment Rohit send 20lakhs for your operation and we can repay him slowly.
Nandu says Rohit is not related us and it's very tough to accept big amounts from him. Tulasi says I thought like you only but he send money to hospital that's why accepted it. Nandu says previously too he helped us and he may take me easy. Nandu father says we didn't thinks those many things, we just want you to save you at that moment. Nandu says he didn't like what they did. Nandu father says don't think more, it's not good for your health. Nandu asks Tulasi to know when he can get discharged. Tulasi says Doctor said we can leave in evening.
Lasya says I'm not liking Tulasi who is warning me and trying to dominate me. Bhagya says they have to stay silent when situations won't favour them. Lasya says I will make Tulasi silent. Bhagya says you have weapon that's to badmouth about Tulasi and Rohit but at this moment it's not correct because of Nandu health so control your anger until you get a chance to manipulate Nandu against Tulasi. Lasya agrees.
Ashwin thinks about his failed plan. His friend asks why he looks tensed. Ashwin says these days all my plans are flopping to get Shruthi because of Prem and his family. Prem enters to their place. Ashwin tries to act good but Prem says don't act and he beats Ashwin saying you become the reason for my parents separation. Ashwin friend stops Prem. Ashwin says it's happened by mistake in drunken state. Prem says you ruined our happy moment, will we get that chance again to unite my parents. Ashwin promise him that he won't cause any problems to them. Prem says it's last warning to you, if you ever repeat any mistake than I won't leave you. His friend asks why he is silent. Ashwin says I will beat him on his life that's why I stayed silent.
Tulasi welcomes Nandu to home with Aarti. Anasuya indirectly mocks Tulasi is the reason for Nandu state. Divya says glad Rohit uncle sent money on time for operation. Anasuya says we may arranged money if he didn't sent it so don't praise him and leave from that place. Nandu father asks Tulasi to take Nandu to his room. Tulasi agrees and takes him to room, than she says I know that you're still thinking about Bill, even I don't like to take help from others but at that situation it's needed to save your life.
Precap – Lasya gets shocked knowing she came to interview for Pa to Tulasi.