Drama is high after Sameer and Naina becomes man and wife.
In the show 'Yeh Un Dino Ki Baat Hai' high voltage drama is going on after Sameer and Naina gets successfully married. Currently, in the show the duo is experiencing the post-marriage rituals.
During one of the post- ritual Sameer has to lift Naina in his arms and swirl. Sameer was happy and excited hearing this thinking now finally he got a little chance to romance with his wife. Before lifting up Naina, Sameer tells her and everybody that with this ritual he will prove that he is capable and can take up the responsibility of his wife and their relationship. But Sameer this over excitement landed Naina into the trouble.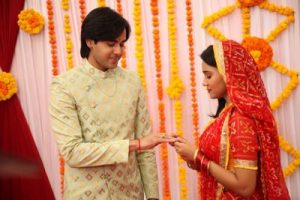 As earlier seen Naina has curled up her hair to look special on her special day and was hiding her look in front of her in-laws but Sameer unknowingly exposed her curly hair look in front of all when he was swirling her and pallu slips-off from Naina's head. This shocked everyone out there. Naina in-laws started taunting her and some cracked hilarious joke on her look too. Naina felt embarrassed. She was hoping that Sameer will take her side but Sameer got angry, and left from there. What Naina will do to cover up the things will be interesting to watch but as per the new promo Naina and Sameer is surely going to hook everyone to their seats with their sizzling avatar.
Yes, soon Naina and Sameer will be grooving on the iconic song 'kaate Nahi Katte Yeh Din Yeh Raat' from the movie Mr.India starred Anil kapoor and Sri Devi.
With the kind of similar ambience like the original version Sameer and Naina is going to recreate the magic of this song in style. Naina hot moves which seems to be inspired by the Sri Devi from the original song is really catching the attention of the viewers along with the Sameer. For this song sequence Naina has opted blue saree same like Sri Devi in the song while Sameer has wear out jeans-shirt and brown jacket. In this romantic  sensuous sequence the on-screen chemistry of Randeep Rai and Ashi Singh as Naina and Sameer is truly making their loyal viewers to hold their breath. This hot and sizzling episode is going to come soon till then enjoy the bit from it.
https://www.instagram.com/p/Buv_pxGFRS6/
Indeed! It's hot and sensuous. So, How much excited you are for the full episode do let us know in the comment section.