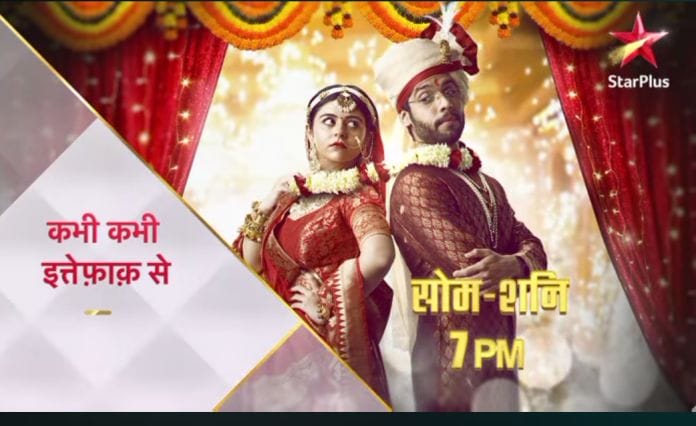 Kabhi Kabhie Ittefaq Sey Upcoming Story, Spoilers, Latest Gossip, Future Story, Latest News and Upcoming Twist, on Justhowbiz.net
The episode starts with Anubhav meeting the dean. The latter shows him an article which talks about Gungun's nomination for the World Press award. She says that she's proud that their Institution's scientist is Gungun's husband which irks Anubhav. Dean wants to invite Gungun and honor her and asks when she will be available. Anubhav says that he doesn't about her working schedule. He used to ask her before, but not anymore. Dean asks Anubhav why he is talking like that and reminds Anubhav about what Gungun did for him. Anubhav says that he remembers that she saved his life, but she can't become her slave for that. He says that Gungun has changed, she isn't the girl he loved.
She doesn't have time for him or his family, she doesn't even time to have a baby and wants to adopt a baby. He says that she talks like he is her office assistance. Dean says that they both should be proud of each other achievements instead of getting jealous. She asks to give Gungun a chance. Anubhav refuses to always compromise. He says that he and his family saw Gungun's true face. She could be a successful woman in business, but she is a failure as wife. He says that he can't be proud of her achievements as his family had to pay big for that. He angrily leaves.
The chairman comes to Gungun with the Sabudana vada that his wife made for Gungun. He invites her on the party organized for Gungun for being nominated for World Press Award. Gungun refuses saying that she's not in mood. The chairman asks to come at least for the one organized the party.
Gungun asks whom. He refuses to tell saying it will spoil the surprise. Gungun asks if it's Anubhav. He nods no. He says that he heard that she visited the doctor. He asks her to take leave. Gungun refuses as this month there's silver jubilee publication of Agrima magazine. The chairman asks why she went alone for her medical tests. Gungun says that they were busy. He wants to accompany her, but Gungun politely refuses. Gungun thinks that she doesn't want anyone learn about her medical condition.
Gungun visits the doctor to collect her medical reports. Gungun gets shocked when doctor says that she has brain tumor and she needs to be operated immediately. Other hand Anubhav receives Akriti's message requesting him to meet her evening. At Jeet network Armaan calls the Chairman and asks if he told Gungun about the party and if he didn't tell that he organized the party. He assures that he didn't tell her.
He says that Gungun refused to attend the party. He says that she has some issues in her personal life with Anubhav. He mentions that Anubhav misbehaved with him when he called him. He suggests cancelling the party. Armaan gets determined to celebrate Gungun's achievement. He says that maybe she refused because of her husband and family, so they shouldn't force her. Armaan says that if they're not happy it doesn't mean Gungun shouldn't be happy. He says that they have to keep this party.
Gungun is talking to her dad's photo and asks why no one is happy with her achievements. She says that even him work hard in his field. Garima says that's why his marriage with Gungun's mother didn't work. She advises to not do the same mistake her parents did. Gungun says that maybe being workaholic is in her blood. Garima says that her dad gave time for Gungun despite his busy schedule. Garima says that one earn money to fulfill family's needs and keep happiness. She asks if she's happy. She says that the most important thing in the family is to spend time together. She says that it has been longtime that she saw Gungun laughing wholeheartedly.
Gungun says that she forgot to laugh because of house pressure. Garima asks what happened. She insists Gungun to share with her. Gungun sayd that they fought from last year's about having child. Garima says that he will talk to Anubhav and will make him understand the importance of child in a couple's relationship. Gungun says that Anubhav wants baby, not her. She asks Garima to not lecture her else she will stop coming here too.
Anubhav meets Akriti. The latter says that she's leaving the institution as her dad is thinking of moving permanently to Delhi. Akriti asks about Gungun and her nomination for international award. He says that she's proud of Gungun's achievements. She gives him a bouquet as he must be responsible for her success. Anubhav thanks her. She asks how and where they celebrated their wedding anniversary.
Anubhav says that no where as Gungun was busy. Gungun says that same happened in the last wedding anniversary. She says that Gungun isn't in the anniversary photos that Chavi posted. She must be working hard and Anubhav must be proud of it. Anubhav says that he is feeling alone despite of marrying Gungun. Akriti says that she works to secure their future.
Anubhav says that Gungun doesn't even want to have child and asks to adopt child if he wants. Akriti says that she's sorry that he isn't happy in his marriage, but he wanted to marry Gungun. Anubhav says that he loved Gungun, but he wants a girl who understands him. Akriti says that he wants a girl who care for him and his family, who cooks for him and calls and asks if he had food, when he will return home. Anubhav recalls Akriti doing all this. Akriti says that he married this type of girl. Anubhav says that it was a mistake and leaves.
The episode ends.
Precap: Gungun gets surprised to see Armaan. They cut cake and celebrate Gungun's success. Armaan says that the one who won award should perform. Gungun and Anubhav dance. Anubhav looks shocked seeing this.
Click to read
Kabhi Kabhie Ittefaq Sey 12th August 2022 Written Update: Anubhav refuses to accompany Gungun for her medical tests