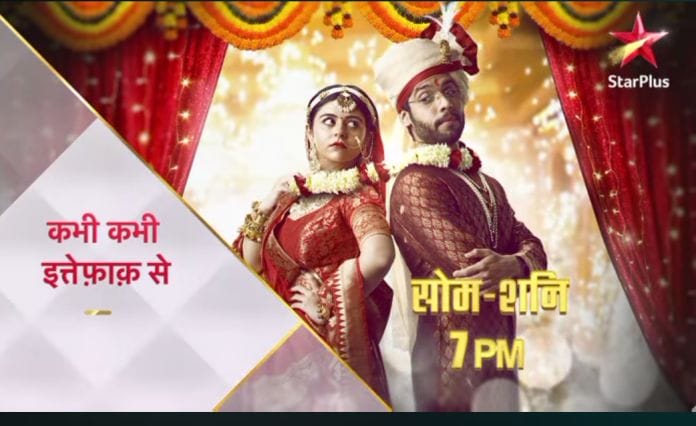 Kabhi Kabhie Ittefaq Sey Upcoming Story, Spoilers, Latest Gossip, Future Story, Latest News and Upcoming Twist, on Justhowbiz.net
The episode starts with Anubhav, Golu, Yug and Nithi on the way for Gungun's party venue. Golu and Nithi are surprised that Anubhav agreed to attend Gungun's party. Anubhav says that he agreed for the journalist Gungun and not his wife Gungun with whom he is angry. He says that Gungun said that she's working to prove herself worth and her dad's upbringing right. He also used to taunt her for not having any goal in her life, but she proved all including him wrong and she deserves to be appreciated. Golu says that he's glad to see him appreciating Gungun. Anubhav claries that he was praising journalist Gungun.
Anubhav gang reach the party venue. The chairman says that there's a special guest among them whom no one expected. Anubhav gang thinks that he was talking about Anubhav. The chairman says let's welcome him. Armaan closes Gungun's eyes. Gungun thinks it's Anubhav. She gets surprised to see Armaan. The chairman says that Armaan organized this party for her. Gungun says that this is her life's best surprise. She hugs. Anubhav and his gang look on unhappy to see this. Gungun and Armaan cut the cake and feed to each other. Golu says that they're friends and they're meeting after two years.
The chairman insists Gungun to dance. Armaan says that it's their office tradition to dance. Gungun hesitates. So Armaan decides to dance with Gungun. Gungun holds Armaan's hand. He brings her in the middle. They dance on the song Gerura. Armaan lifts Gungun at the end of their performance. Anubhav look on angrily at them. Gungun and Armaan notice Anubhav and his gang. Gungun tries to come to them, but her office staffs surround her. Anubhav and his gang leave.
Armaan asks Gungun her passport and says that she's going to US with him. Gungun asks why. Armaan says for her treatment, he knows that she has tumor. Gungun is surprised that he knows this and asks how he knows. Armaan says that it's not important, he can't sit without doing anything knowing this. He says that she will get best treatment in the America and he talked in an hospital for this. He adds that he knows that her family won't agree.
He asks Gungun to either convince her family by herself or he will do, but it's final that she's going to America with him. He says that it's matter of few days and she will return to her family after her treatment. Gungun says that it's not see and moreover she's worried about something else now. She wants to leave the party. But Armaan reminds that she won a big award and important guests have come in the party and requests her to meet them.
Ranvijay parents talk about Ranvijay being in the jail from two years. They receive their lawyer's call. They ask the lawyer about Ranvijay bailing out Ranvijay. The lawyer says that now Gungun, who reopened the case, has become a celebrity which makes the case more difficult. He assures them to bail out Ranvijay, but says that it will take some time. At the Kulshreshths Charudatt says that Gungun shouldn't work from the next day. Gungun asks why. Charudatt says that either Gungun is shameless or she didn't realize her shameful act. He says that thankfully he didn't come to the party and see that. Anubhav admits that he told Charudatt.
Gungun says that Anubhav has misunderstood. Anubhav reminds her that Armaan has feelings for her and he returned all his work behind came for her. Family accuses Armaan having bad iintention towards Gungun. Sargam blames Gungun. The latter defends Armaan and says that he knows she loves Anubhav. Anubhav says that he returned to give his shoulder to Gungun to cry after learning the difference between them. He asks Gungun if she shared her personal problem with Armaan in the recent time. Gungun recalls her talk with Armaan and says yes.
Charudatt firmly says to Gungun to resign her job and to never meet Armaan. He will get her work in any Government office. Charudatt asks Gungun to choose between her family and her work. Gungun says that she can't take her life such a big decision in short-term. Chandru says that sometimes she has to take tough decision for family. Gungun asks if she has become wrong just because she danced with Armaan, she asks if they don't trust her. They don't answer her. Gungun cries remembering everything.
The episode ends.
Precap: Armaan says that he got her passport from the chairman and asks her to come will with him to America. Gungun says that she can't decide this alone. Armaan asks if she will risk her life for her family and asks her to decide between going to America or risking her life for family.
The episode starts with Sargam and Sunanda discussing about Anubhav being sad. They jave prepared besan laddu for Anubhav hoping it will bring smile on his face. Sargam says that Gungun is responsible for Anubhav's sadness and only she can bring his smile back. Sunanda says that she asked Gungun to make besan laddu for Anubhav, but she said that she doesn't have time. They both come to Anubhav and Gungun's bedroom and find Gungun sleeping. Sargam asks Gungun that she refused to make laddu for Anubhav giving the excuse of work, but she has time to sleep.
Gungun says that she has headache. Sargam doesn't believe her and says that she doesn't have headache while working in her office. Sunanda asks where Anubhav is. Gungun says that she doesn't know. Sunanda asks why she shouldn't call him. Sargam taunts Gungun saying that she doesn't have time to call her husband. Gungun says that they can also call him. Sunanda says that after marriage Anubhav is her responsibility. Gungun says to let her fulfill her responsibility in her way and asks them to not interfere. Sargam taunts her asking her to fulfill it correctly.
Sunanda says that Anubhav stays out of the house to avoid fights with Gungun. She reminds her that she's Anubhav's first. Sargam says that Gungun is boss only in the house, but in the house, she's only a daughter-in-law. Gungun says that she never claimed to be a celebrity or boss in house and just wants their support. Sargam says that she always claimed it many times through her behaviors. Sunanda says that Anubhav would have been happy if had married a simple girl. Gungun gets hurt hearing this.
Click to read
Kabhi Kabhie Ittefaq Sey 15th August 2022 Written Update: Kulshreshths refuse to attend Gungun's success party