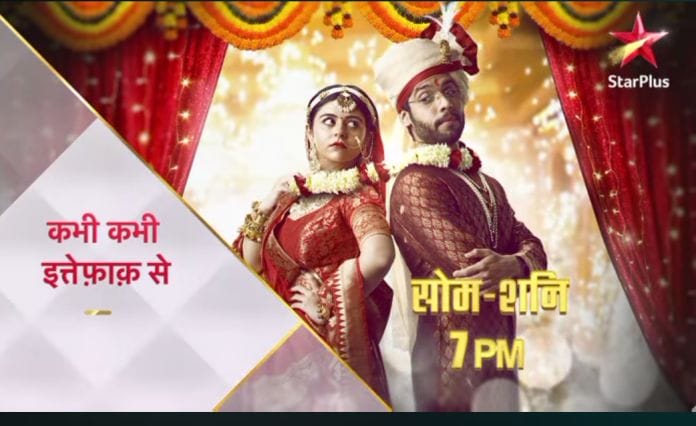 Kabhi Kabhie Ittefaq Sey Upcoming Story, Spoilers, Latest Gossip, Future Story, Latest News and Upcoming Twist, on Justhowbiz.net

The episode starts with Gungun saying to Anubhav that he got jealous of her achievements and forced to resign her job. She further says that he questioned her character, even talked about divorce and didn't take stand for her when Charudatt talked about divorce. She says that death is in front of her and she doesn't know if she will survive. She asks him to let her get treated and die peacefully.
Gungun is sitting in a restaurant recalling Anubhav and Charudatt apologizing to her. Armaan comes there. He shows the sweater, shoes and neck pillow that he bought for Gungun for her US travel. Gungun says that Anubhav already bought all these things for her. Armaan asks if Anubhav gave her permission to go to America.
Gungun says that she talked to Anubhav last night, he agreed and apologizes to her. Armaan laughs and mocks that Anubhav gave her permission to live her life and asks what about her family. Gungun says that her family isn't bad and realized their mistake. Armaan says that she's living as a prisoner in her own house. Gungun says that in a joint family,
compromises should be made which he won't understand. Armaan says that there's difference between compromise and sacrifice. Gungun says that her family will agree. Armaan says that they don't have time, if she starts to convince each member of the family, she will lose her life. So he decides to talk to her family. Gungun refuses as she doesn't want his family insult him. However Armaan is determined to talk to his family.
At the kulshreshths Anubhav, Golu and his gang discuss about Gungun. Anubhav says that Gungun will go to America for her treatment with Armaan. He further says that he doesn't care with whom Gungun stays as her life is more important to him for now. Anubhav says that he says that he has been always loyal to his country, but his wife has to go America for her treatment. Anubhav says that he decided what will be his next project.
Golu says that Anubhav should have concentrated on Gungun instead of his project. Anubhav blames Gungun's work pressure and stress for her health condition. Golu says that Anubhav is also partially responsible for Gungun's health condition. Just then Gungun comes. Golu enquires her when her flight is. Gungun says that the next day morning and has to inform the family. She says that she wants to talk to Anubhav alone. All leave.
Gungun asks Anubhav if he wants to say something and asks him to say it before it gets too late as she doesn't know if she will return alive. Anubhav scolds her for talking about death. He says that she will return alive. He hugs her. Anubhav says that he wants to support her in this battle and be by her side when she gets operated. Gungun asks if he's coming with her to America. Anubhav nods yes.
Gungun reminds him about his project and the international competition. She says that his two years hard work will be wasted if he comes with her to America. Anubhav says that he doesn't care about it. Gungun says that if he wins the competition, he will become the international scientist. She refuses to let him lose this opportunity. She demands him to participate in that competition. She says that she can get well, but will never be happy if he misses such a big opportunity. Chavi informs them that Armaan has come.
Gungun and Anubhav come downstairs. Armaan tells family that Gungun needs to go to America for her treatment and it's getting delayed because of them which can be dangerous for Gungun's life. Charudatt says that he understands and asks Gungun her decision. Gungun says that she wants to get treated in America. Charudatt asks with whom she wants to go to America, with Anubhav or Anubhav. Kushi tells about Anubhav having international competition and he has been preparing for it from 2 years.
Charudatt says that for him family's respect is more important than any award, he can't allow Gungun leave for America with a stranger. He asks Anubhav about his decision. He asks if award is mor important to him or his award. Anubhav says that he is ready to go to America with Gungun and sacrifice his dream for that. Gungun remembers Anubhav telling about his dream project. Gungun says that she wants to go with Armaan and not Anubhav shocking the family.
The episode ends.
Precap: Chandru asks Gungun why she's adamant when Anubhav is ready to sacrifice his dream for her. Charudatt asks Gungun to divorce Anubhav before leaving. Gungun says that she already prepared the divorce papers. She says that she signed it and asks Anubhav to submit it in the court after signing it. Gungun leaves with Armaan
The episode starts with Ankit and Kushi being on the call with Goli and Pradyush. Goli is shocked learning that Gungun has brain tumor. She asks why family is against Gungun getting her treatment in US. Ankit requests Goli to talk to the family about this. Goli agrees to come home evening. Ankit and Kushi thank her.
Armaan surprises Gungun with a candle light dinner arrangement. Gungun asks where other staffs are. Armaan says that he gave them all off and adds that this is a special arrangement for a special person. Gungun asks why this. Armaan says that because it's her last day in the office and asks to consider it as her farewell party.
He places her resignation letter on the table and says that he found it while searching for a file. He says that she did right. He can says that she rejoin the company after her treatment. Armaan surprises Gungun by preparing her favorite white sauce pasta. Gungun gets emotional having the first bite. Armaan asks why she is crying. Gungun says that there's someone to care for her. Aramaan says that they're happy tears. He asks her to wipe it off. Gungun obliges smiling.
Click to read
Kabhi Kabhie Ittefaq Sey 18th August 2022 Written Update: Anubhav gets slapped by Gungun