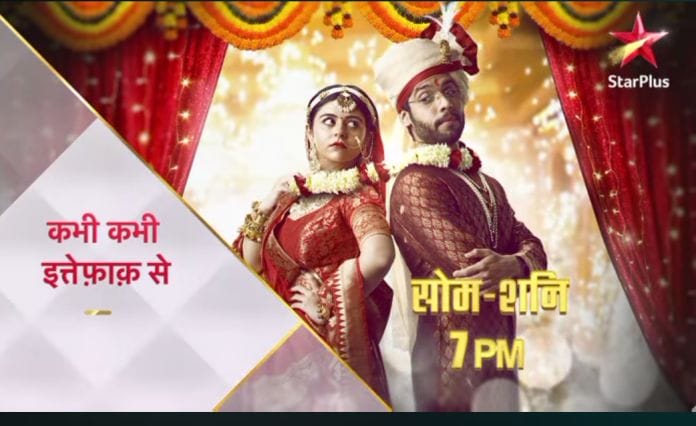 Kabhi Kabhie Ittefaq Sey Upcoming Story, Spoilers, Latest Gossip, Future Story, Latest News and Upcoming Twist, on Justhowbiz.net

The episode starts with Akriti asking Anubhav if Golu and Ankit did his room decorations and asking to show the whole room. Anubhav asks if she won't wish him on his birthday. Akriti wishes him a happy birthday. Golu asks to leave the room for awhile. Gungun obliges.
Anubhav shows Akriti whole room. She asks to see the cake. Anubhav obliges. Akriti says that Gungun must have chosen this cake and asks where she's. Anubhav says to let him celebrate his birthday in peace. Akriti says that Gungun is hiding somewhere in the room, she must be hiding in the washroom.
Charudatt asks Anubhav to admit that he is with Gungun. Anubhav denies it. Akriti refuses to believe and demands him to return home immediately. Anubhav says that Akriti treats as a machine who is remote control is in her hand. He says sarcastically thanks for his best birthday gift ever and hangs the call.
Anubhav comes to Gungun and finds her crying. Anubhav says that he knows that she's hurt. Gungun admits it. She says that Anubhav is the most important person of her life yet she will remind the another woman in his life. Anubhav denies it and says that Gungun is his first love. He promises to get name and respect to their relation.
Gungun says that she doesn't want him to fight for that with his family. She says that she can wait her whole life. Anubhav says that he can't as he doesn't want Akriti to hurt Gungun. He asks her to come in. Gungun refuses after listening to his family and says that she will go to Prakash's house.
Ranvijay gets angry with Gaikwad that he didn't kill Anubhav yet and asks to do the work before Anubhav return Lucknow. Gaikwad says that his man said that the enquiry will last for some days and the scientist is still here. He assures to do the work. Other hand Anubhav stops Gungun.
He gets on his knee and assures Gungun that she is always first for him and asks if she has any doubt. Gungun says that it's enough he told her. She comes back to the room. They celebrate Anubhav's birthday. Anubhav cuts the cake. He feeds to Gungun and she feeds him back. He hugs Gungun after feeding cake to Golu and Ankit.
At the Kulshreshths Akriti says that Gungun is with Anubhav. Charudatt says that this is the reason he asked her to go along with Anubhav. Sunanda says Akriti to go to Mumbai and bring Anubhav. Akriti says that she couldn't go as she doesn't get leave on her work as she already took lot of leave.
Sargam says that Gungun is taking advantage of the situation. She further says that Anubhav extended his stay in Mumbai and Gungun must have stopping Anubhav from returning home. Charudatt says that he will go to Mumbai and bring forcibly Anubhav.
Akriti phones Shankar and says that Gungun is with Anubhav in Mumbai. Shankar advises Akriti to win Anubhav's heart heart using her love and not anger. Other hand Anubhav wakes up startled shouting Gungun on seeing a nightmare. Gungun gets worried for him.
He sees Gungun decked up and asks where she's going. Gungun says that she's going to Prakash's house which upsets Anubhav. Gungun explains him that Prakash mother is waiting to meet her. She says that she wants to take him somewhere before that. She takes him out.
Pradyush arrives at the Kulshreshths which surprises the family. Charudatt asks why he has come. Pradyush asks asks about Anubhav and Golu. Charudatt says that they're not in home. Akriti takes his blessings. Pradyush blesses her and is about to call her as Gungun. Charudatt clarifies that she's Akriti who works with Anubhav. Pradyush asks about Anubhav and Gungun.
Charudatt avoids to answer it and asks why he has come. Pradyush says that he has brought marriage proposal for Goli. Goli is about to leave the place. Chandru asks Goli why she's leaving. Goli says to tell Pradyush to leave and focus on his career for which he left her. Pradyush admits that he is her culprit. He says that he is ready to accept any punishment and just wants to rectify his mistake.
Gungun takes Anubhav to Prakash's house. Prakash and his mother welcome them. Aarti arrives meet Anubhav and Gungun. Gungun says to Anubhav that Aarti is Prakash's soon to be wife. Anubhav asks when they're getting married. Aarti and Prakash's mother complaint that Prakash is postponing the wedding. Prakash says that he will get married once he will get settle in his life and asks Anubhav to make them understand.
Anubhav says that one shouldn't delay the marriage if he got a partner who makes the life journey easy and beautiful and looks at Gungun. Anubhav says them to get married soon so that they can dance on their wedding. Prakash agrees. Prakash's mom says that she made Halwa for Anubhav for his birthday. Anubhav cuts it as cake and feeds to Gungun. They all click a selfie.
The episode ends.
Akriti phones Anubhav and apologizes to him for doubting him. She says that shw should have trusted him. She asks him to celebrate his birthday well and have fun. Akriti receives Anubhav and Gungun's photo with Prakash's family. Akriti gets angry and says that Ranvijay was right, she has do to something with Gungun.
Click to read
Kabhi Kabhie Ittefaq Sey 6th July 2022 Written Update: Gungun surprises Anubhav