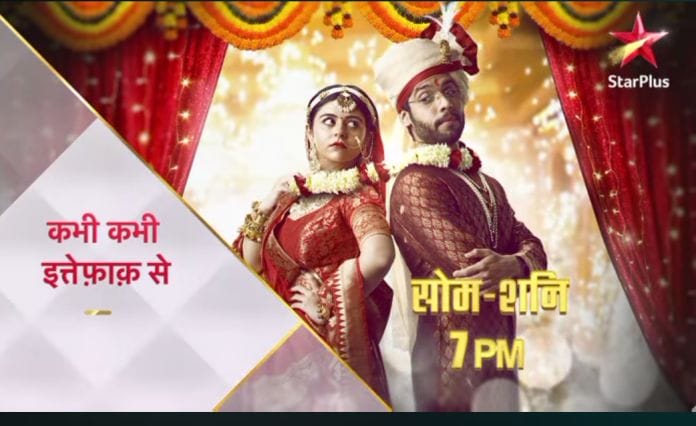 Kabhi Kabhie Ittefaq Sey Upcoming Story, Spoilers, Latest Gossip, Future Story, Latest News and Upcoming Twist, on Justhowbiz.net
The episode starts with Golu says both Anubhav and Garima took Gungun to her house. Sunanda says that Gungun can't do a single thing alone but Anubhav is there to save her at the same time is this necessary for him to tag along Gungun to her home because her aunt is with her. Sargam agrees with Sunanda. Chandru asks Golu why they didn't bring Anubhav with them. Golu tells that Anubhav is not a kid. Yug tells Anubhav thought he need to be with Gungun which is more important for him. Ankit says that they all know about Anubhav's stubbornness. Sargam tells that they all know about his stubbornness but he need to realise he have a family of his own. He has his wife who needs him.
Charu apologises to Akriti for Anubhav's behavior and hurting her like this. He promises to scold him the moment he returns. Chandru says to Akriti even they are surprised by Anubhav's behavior. Charu promises Akriti that he will make sure that Anubhav realise his mistake. In Bhatnagar's house doctor checks up Gungun and asks Garima to come with him. Both Garima and Anubhav follows him. The doctor says they have to take x-ray to see whether she has any internal injury or not. Anubhav asks about her health condition. Doctor says that Gungun is emotionally unstable now. Garima asks why Gungun is not talking to anyone to which the doctor days due to mental shock after she lost her father all of sudden. He further asks them not to leave her side at any cost and give her the attention which she needed now the most.
The doctor leaves. Anubhav tells Garima that he will stay with Gungun for a while then leave because his family members must be worried about him. Garima and Anubhav enters Gungun's room. Garima pleads Gungun to have soup but the latter refuses. Anubhav persuades Gungun to have soup. He tells her that he knows she always wanted to annoy him but this is not a right time. Gungun doesn't say anything. Anubhav tells Gungun if she dont have food then he will also dont have food and die is that what she want. Gungun gets shocked and start having the soup which Anubhav feeds her. Anubhav thanks her for saving his life. Garima gets relieved. Anubhav makes Gungun lay on her bed and tells her that he understands what she is going through. In all of our lives we decides to leave the world but they have to overcome that feeling and move on and be strong. He tells Gungun that she is her dad's strong girl so asks her to be strong. Anubhav decides to leave but Gungun holds his hand. Anubhav and Gungun looks at each other.
Anubhav comes to his house. His family members waits for him. Anubhav decides to go to his room but Charu stops him and starts scolding him. Anubhav apologises for his behavior. Goli tells his one sorry is not going to solve the mess he created and says Charu is so angry. Charu says Akriti's happiness is also his responsibility. Akriti asks Charu to not to scold him because he is like to help others. Sunanda asks what about his wife then and tells Anubhav even after all this Akriti is defending him. Chandru agrees and tells Anubhav that he should be grateful to have wife like Akriti. Charu tells from now the family members will help Gungun but not Anubhav. Akriti asks Anubhav to not to worry because she will take care of Gungun.
Anubhav says that he dont care who is taking care of Gungun or want to take care of her because he will do what he feels like doing. Charu and Chandru asks is this his duty to help Gungun. Akriti hides her smile. Anubhav says helping other's is everyone's duty. Akriti says that they agree he is right but he is forgetting that Gungun is a married women if he keeps going to Gungun then the society will question their relationship. She also asks him to understand that because of him she dont want any misunderstanding to happen between Gungun and her in law's. Sargam agrees with Akriti. She asks Anubhav to thinks about Gungun's respect. Neeti and Chandru also advices Anubhav. Ankit interrupts and defends Anubhav's actions.
Yug supports Ankit and says the situation is not normal and someone's death is more important than the first night after wedding of someone. Sargam says that he is right but she is confused why Gungun's husband and her in law's are not with her and asks is Gungun had a fight with her in law's. Anubhav says that he can't believe Sargam is saying such thing about Gungun. Akriti supports Sargam and tells that no one saw Gungun's husband so soon everyone will start questioning the same. Charu warns Anubhav to not to ruin their family reputation by helping Gungun. Anubhav thinks to himself there is an answer which he can't able to give to his family now.
The maid informs Gungun that someone is here to meet her. Gungun asks who it is. The maid says Ranvijay. Gungun gets angry and asks the maid to not to let him inside but Ranvijay comes there. The maid scolds him but Ranvijay asks her to bring food for Gungun he will feed her and says that he is here to talk to Gungun about something real important. Gungun throws things at him and asks him to leave.
Ranvijay mocks Gungun also mocks Anubhav for taking care of her leaving his first night with Akriti. He then shows a photo of Anubhav filling Gungun's hairline with vermilion. Gungun gets shocked and demands Ranvijay to give the phone and delete the photo. Ranvijay refuses also tells that all his friends have this photo and threatens to viral it. He also asks what will happen if he send this to Anubhav's work place or to his wife or to his family members. Gungun warns Ranvijay to not to do anything such. Ranvijay makes fun of her for acting like a typical house wife.
Gungun asks what he wants. Ranvijay says he wants her only shocking Gungun. Ranvijay says no one will marry her if they learns the truth so she has to be grateful that he is willing to marry her and says that their marriage should take place once everything that realated to Ridesh's funeral is over. He also demands money from Gungun..Gungun gives him a cheque and warns him not to disturb Anubhav's life. Ranvijay asks her to send him money first day of every month or else the second day of the month Anubhav's family will get this photo then leaves the place. Gungun sits on her bed and starts crying.
Precap: Anubhav tells that he is going to apply job in abroad to his dean. The dean gets shocked and says that he always denied such job offer. Anubhav says that he is trapped so he want to go somewhere else and it's not necessary to happen whatever they wish in their life. Neeti and Kushi teases Akriti by showing the vermilion which is on Anubhav's shirt and leaves. Akriti thinks this is not hers and wonders whose it is then.
Click to read
Kabhi Kabhie Ittefaq Sey 6th May 2022 Written Update: Kulshreshth's praises Akriti