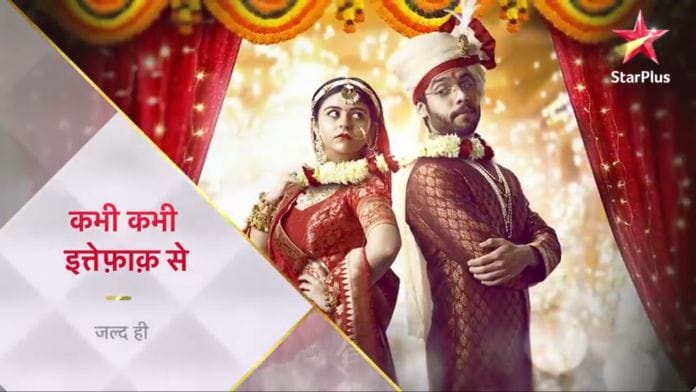 Kabhi Kabhie Ittefaq Sey Spoilers, Upcoming Story, Latest Gossip , Future Story, Latest News and Upcoming Twist on justshowbiz.net

The last week it was seen that Golu phoned Kulshreshths and informed them about Anubhav's accident and him being missing. Akriti snatched the phone and complained to Charudatt about Gungun and blamed her for Anubhav's accident.
Charudatt asked Akriti to file a police complaint against Gungun. Akriti said that Gungun had taken even police to her side. Commissioner scolded Akriti for creating a scene and interrupting their investigation. Later commissioner informed Gungun about finding a corpse in an unidentified condition.
He asked her to come to the hospital to identify it. Gungun, Golu and Ankit visited the morgue. Gungun identified the corpse as Anubhav's with the ring she gifted him. They broke down in tears. Golu informed the same to the Kulshreshths. Kulshreshths got shattered hearing this.

Later Akriti, Golu and Ankit were on the way in the ambulance with Anubhav's body. Golu called Gungun to ask where she was. Gungun said that she was in a cab behind the ambulance. She said that she would not come to the Kulshreshths's house as it would remind her Anubhav only.
Akriti scolded Golu for still talking with Gungun. She blamed Gungun for Anubhav's death and cursed her. Gungun reached her house and burst into tears. Garima consoled her.
Anubhav's body arrived at the Kulshreshths. All cried seeing it. Later Kulshreshths performed the last rites of Anubhav in the crematory ground. Gungun arrived there with Garima. She broke down watching the last rites of Anubhav.

Akriti and Kulshreshths spotted Gungun in the crematory ground and reacted harshly to her accusing her for Anubhav's death. Armaan learned about Anubhav's accident and decided to meet Gungun to express his sympathy for Anubhav's loss. Gungun received the visit of two lawyers who brought the legal notice for Gungun.
They told that her that Ranvijay's dad accused Gungun of cheating. Gungun refused the allegation. The lawyers said that Ranvijay dad claimed to have documents that would prove Gungun guilty. Later Armaan visited Gungun and expressed his condolences for Anubhav's loss.
Gungun insulted him refusing his sympathy. Garima apologized to Armaan on Gungun's behalf and told him about the legal notice they received against Gungun. Armaan decided to help them get justice despite Gungun refusing his help.

Garima called Armaan and sought his help when police came to arrest Gungun. Armaan explained the inspector about Gungun's mental state after losing her loved one and assured to bring Gungun to the police station after the weekend. Police left understanding Gungun's situation.
Garima thanked Armaan for his help and told about Gungun's indifference behavior towards everything. Meanwhile Ranvijay's dad asked the lawyer to make Gungun drop Anubhav's case at any cost to save Ranvijay. Later Gungun hallucinated Anubhav in front of her. Anubhav advised Gungun to become the bold Gungun that she used to be. Gungun decided to fight for herself and Anubhav.

Gungun came to Jeet studio for her interview and photo shoot. Armaan's secretary informed the same to Armaan who have come to meet his lawyer friend regarding Gungun's case. His friend asked Armaan if he was intrested in Gungun as he usually didn't talk to any girls.
Armaan denied it saying that he was only helping a helpless girl. Armaan met Gungun. He confided in Gungun about the death of his lady love hoping that his story would inspire Gungun to overcome her sorrow. He offered Gungun to join Jeet network.

Golu and Yug got worried about Gungun and decided to visit to her. Other hand Gungun completed her photo shoot and found Armaan. He offered to drop her off at home. Gungun didn't want to take lift from him, but she ended up agreeing when he insisted.
On their way Armaan promised Gungun to get justice for Anubhav. He then talked about his mother and her bravery. Gungun asked about the cause for his girlfriend's death. Armaan said that she died due to cancer. He further said that they loved each other very much.

Gungun reached home and found Golu and Yug at her doorstep. Yug questioned about the guy who brought her. Gungun said that he is Armaan, the owner of Jeet network. She told that she had gone to his studio for photo shoot and interview. Later Gungun and Garima performed Puja for Anubhav.
Armaan who came to see Gungun joined them. After puja Garima thanked Armaan for coming when all left Gungun alone. She expressed her concern for Gungun. Armaan offered his support to her. But Gungun said that she didn't need it.

Later Gungun hallucinated Anubhav motivating her to live for herself. She came out of her imagination and found Armaan in front of her. At the Kulshreshths, Ankit, Yug and Kushi criticized Gungun for taking lift from Armaan and got disappointed that she already forgot Anubhav and moved on in her life while Akriti is still crying for Anubhav.
Golu defended Gungun. Later Akriti blamed Gungun for Anubhav's death. Golu asks her to file court case against Gungun and prove her accusation there instead of defaming Gungun here.

Goli stopped Golu and Akriti from arguing and creating a scene in the puja. Elsewhere police arrested Ranvijay. His accomplice backstabbed Ranvijay pretending to not know him. Meanwhile Armaan told Gungun about his dream project and sought her support to fulfill it.
Gungun agreed. Armaan got a call and learned about Ranvijay's arrest and told Gungun and Garima about the same. Other hand Ranvijay's dad also learned the same and got determined to make Gungun pay the price. Armaan asked Gugun to find Anubhav into somenone else when she missed him. Gungun said that she didn't need it.

Gungun joined Jeet network. Armaan introduced her to the staffs and explained her about her first assignment. He asked her to find a brave fisherwoman and cover her story. He showed her new cabin. The staffs gossiped about Armaan giving special treatment to Gungun.
Gungun reached the fishermen place and made a deal with two ladies to help to find some Madhav they are looking for in exchange of the brave fisherwoman address. Gungun failed to see Madhav as she went to receive a call. Madhav turned to be Anubhav who had lost his memory in the accident.

In the upcoming week it will be shown that kulshreshths will get a date at the end of the next month for Goli and Pradyush wedding. Not wanting to deprive Goli and Pradyush of happiness they will decide to get them married the next day. Goli and Pradyush marriage will take place. Other hand Armaan will surprise Gungun by revealing the cover picture of his magazine with Gungun.

Stay tuned to this space for exclusive update of your favorite shows.