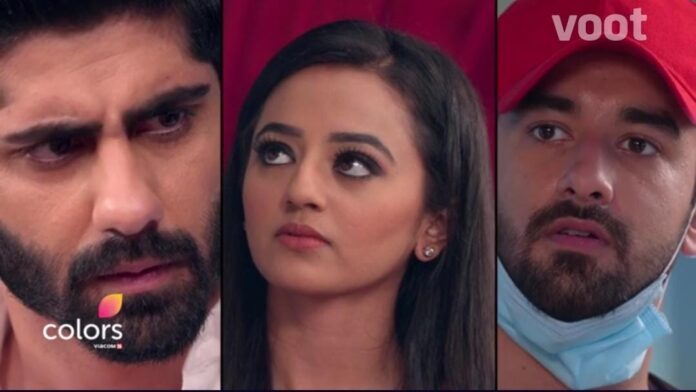 Ishq Mein Marjawan Upcoming Story, Spoilers, Latest Gossip , Future Story, Latest News and Upcoming Twist on Justshowbiz.net
Starring Helly Shah, Vishal Vashishtha and Rrahul Sudhir in the lead show Ishq Mein Marjawan 2 is gearing up for another high voltage drama.
Kabir to plot against Riddhima and Vansh yet again to separate the duo. He will send a parcel for Riddhima. Riddhima and Vansh's romantic moment will get interrupted post Riddhima will open the parcel and will left shocked seeing the stuff inside. What is inside the gift box?  Well, unfold the mystery in the upcoming episode of Ishq Mein marjawan 2. Riddhima and Vansh to give another love test, it will be interesting to watch do Kabir will get succeed in separating RiAnsh or not?
So far in the episode it is seen, Kabir instigate Ahana and force her to compete with Riddhima in flying the kite with a condition. Ahana asks Riddhima to accept the challenge and the one, who will lose, will have to leave the house. Riddhima accepts the challenge. She was about to win but Ishani trick Riddhima at the last moment. Ahana wins the challenge and asks Riddhima to leave the house. Riddhima than give a befitting reply to Singhania's and quotes this simple condition cannot throw her out from the house; instead for her self-respect she herself is leaving the house. She adds and says to Vansh that she knows he wants to stop her but his ego will not allow him to do the same. Riddhima walks out from the house saying Singhania's and Vansh don't deserve her. Later, Siya wakes up from coma and reveals to Vansh about Riddhima's innocence. She urges Vansh to stop Riddhima. Vansh runs behind Riddhima and manages to stop her.  He apologize her for his mistake. Riddhima reunites with Vansh.
It will be interesting to watch for how long Riddhima and Vansh will be able to stay together amid so many enemies around!
Stay tuned with us for more news, spoilers and latest updates.