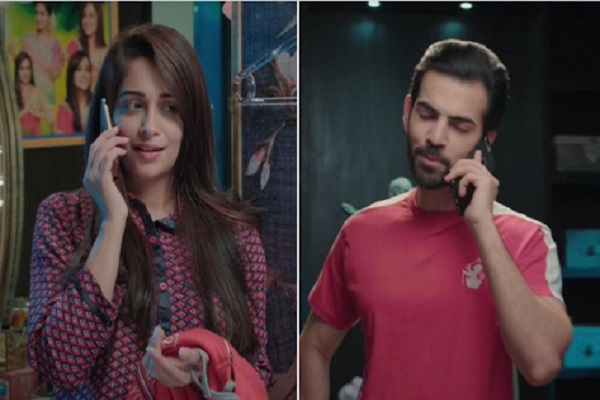 The episode begins with the preparations are going on in full swing in this Sippy mansion for Rohit engagement. Naren instructs YK to prepare some legal papers before the wedding took place. YK says are you sure you want to do this? Because this thing can ruin everything even the alliance can get cancelled as well. Naren says I know what I am doing and if the alliance will happen it will happen in my condition. Yk reluctantly agrees for it and Naren leaves the room.
Raima comes down and says she has to leave to meet Sonakshi when Sulochana tries to provoke her by saying that all this preparation should have been done for you. After all, you are the first love of Rohit, Raima says aunty why don't you join any kitty party or yoga club and invest your energy there rather than spoiling someone else's happiness.
Raima asks Rohit to drop her to meet Sonakshi when Pooja asks Raima for help. Rohit gets a call from Sonakshi and she informs him that Madhuri Dixit is not available to appear at the wedding. Rohit says then gets ready to pay for the penalty and Pooja and Raima start to tease him by asking what penalty he is talking about? Rohit says this is between me and Sonakshi and you two please stay away and Pooja and Veena burst out laughing while Raima follows him.
Sonakshi and Raima come at the KPK sets and Sonakshi thanks her for coming to do the shopping. Raima is absentmindedly responding to her when Sonakshi asks if she is looking for Sumit? Raima says yes and then covers it up like no. Sonakshi giggles and teases her with the name of Sumit and Raima blushes. Netra mam informed Sonakshi that Madhuri Dixit is out of the country with her husband so she is not available right now. Sonakshi says I am gone now, Raima asks what will be your problem if she is out of the country and then she realizes it has some connection with the penalty thing Rohit is talking about in the morning.
Sonakshi calls for her designer to prepare a dress on an emergency notice and also asks for the tailor to come and take the measurements. Raima says she is getting late and she has to leave for now as she has done with watching the shooting. Sonakshi giggles and says that she has to go early because she has an appointment with Sumit over a cup of tea.
Raima blushes again and rubbishes it off while Sonakshi smiles and bids her goodbye. She gets a video call from Rohit and she told him about the shopping and also shows him the ring she bought for him. Rohit asks if this ring is picked up by Raima? Sonakshi says yes she did and thanks to her that I am able to buy something which you like. Rohit says I know Raima is aware of my likings but I love you and I want to wear something of your choice. Raima overheard their conversation and gets upset with Rohit's words.
Mahesh comes in Sonakshi's vanity as a tailor and Sonakshi realize it later when the real designer appears with her tailor and informs her that he is with her and she hasn't sent anybody else before. Sonakshi gets an unusual awkward feeling around her and she gets terrified. Rohit shows the ring he brought for Sonakshi to Raima. Raima answers indifferently and Rohit asks if there is something which is bothering you?
Rohit makes her understand that he wants to explore the likings of Sonakshi and if he doesn't like, he will reject it as well and he wants to give her the same space. He says both of us didn't get time for courtship hence it is really important for us to know about each other's liking and dislikings. YK gets the paper ready on the request of Naren but he hides this information from Naren as he is in a dilemma. He hides the paper as he is sure about the mess it will create and thinks after all this will this marriage even able to take place?
Precap – Sonakshi appears at her engagement as Madhuri Dixit for Rohit.