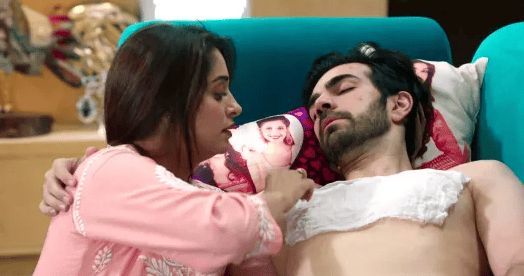 Episode starts with Nikhil's friend dancing. They see Sonakshi and ask her to come. One of the men asks Matre shall he start the music. Matre ask him to stand aside.
Sonakshi ask Nikhil and his friend to come on the stage for the photo session. Photographer clicks there photos. She leaves the place. Matre gets angry.
Rohit breaks the alcohol bottle and Venna wakes up from the sleep. She gets restless and calls Rohit.
Venna calls Ravi to enquire about Rohit. Ravi tells he himself is searching for Rohit. Venna wakes up Naren and informs him about Rohit. She asks him to accompany her to Pune.
Sippy's worry for Rohit. Ravi asks them not to step out, as it is raining heavily.
Sonakshi gets a call from Netra. Netra ask Sonakshi where is she. Sonakshi tells her that she is fine and will reach on set soon. Netra ask Sonakshi to come for the shoot in the morning.
Sonakshi ask Matre to delete Pooja's videos and photos, as she has kept her words by coming to attend the function. Sona ask Matre to never show his face again to her. She goes away.
Rohit comes in front of Sonakshi's car and falls down. Sonakshi ask Shankar to drive properly. Rohit stands up and goes away.
Sonakshi ask Shankar what happened. Shankar tells her that he is a drunkard and roaming around the road. Sonakshi ask him to drive carefully. She drops down her window and sees Rohit.
Rohit searches for his watch. Sonakshi asks Shankar to stop the car. She finds Rohit's watch. Sona calls out Rohit. Rohit imagines Raima in Sonakshi and falls down on the road.
Sonakahi takes Rohit with her. Venna again calls Rohit. Ajit ask her to calm down. Sonakshi ask Shankar to drive to some hospital.
Naren ask Venna to calm down. Venna gets restless. Rohan asks Venna to calm down.
Venna yells at him and vents out her anger. She says she has asked Rohit not to step out today but he didn't listen to her. Sippy's gets shocked.
Yk ask Venna Rohit went to find whom. He asks Naren to tell where Rohit went. Naren ask Venna to tell everyone about Rohit. Venna ignores and dails Rohit's number.
Sonakshi checks Rohit's temperature and says to Shankar to drive fast, as the temperature is soaring. Rohit tightly holds Sonakshi and takes Raima's name.
Shankar stops the car at some hospital. He comes back and tells to Sonakshi that no doctor is available. The ward boy told him that doctor would take 2-3 hrs to come. Sonakshi says she will talk to the doctor. Shankar assures Sonakshi that he will drive her to the Mumbai on time. Sona ask him to drive fast.
Rohit murmurs Raima's name. Sonakshi says to Rohit that she will not let him happen anything. Sonakshi ask Rohit not to close his eyes and recalls his words. Sonakshi takes care of Rohit.
Naren ask Venna to tell them why Rohit went to Pune. Venna cries and worries for Rohit.
Sonakshi calls Venna and tells her about Rohit's condition. Venna cries for Rohit. Naren consoles Venna and asks her not to worry, as Sonakshi is with her.
Rohan calls Pari and inquires her about Sonakshi. He asks her did she know why Sonakshi went to Pune. Pari tells him that Sonakshi is having night shift why she will go to Pune. Suman overhears her talk and thinks why Sonakshi is with Rohit.
Suman comes to Sonakshi's set and inquires about Sona from Netra. Netra ask Suman not to create any scene at her work place. She says to her to find about Sonakshi by herself.
Netra further says if child is hiding secrets from Parents that means there is upbringing fault. Suman stands shocked and goes away.
Venna ask YK that Sonakshi will bring Rohit to sippy hospital only. YK says yes. Naren yells at Venna for getting over restless for Rohit. Ajit interrupts and Sippy's does argument with each other.
Rohit treatment gets started. Tulsi informs Sonakshi that Rohit has consumed some poisonous alcohol and his treatment is going on. Naren and everyone reach to the hospital.
Sonakshi sees Rohit's watch. Venna comes to meet Sonakshi. Sona gives his watch to Venna. The duo talks with each other. Sonakshi gets shocked hearing about 26th September the day that brought storm in her life too like Rohit. Venna asks her what happened on that day. (Episode Ends)
Precap: Rohit holds Sonakshi's hand and thinks she is Raima. He asks her not to leave him. Venna gets shocked. Sonakshi says to Rohit that his love is not a love but an obsession. She says she will pray that he never gets his love back. Rohit asks Sonakshi to shut up.