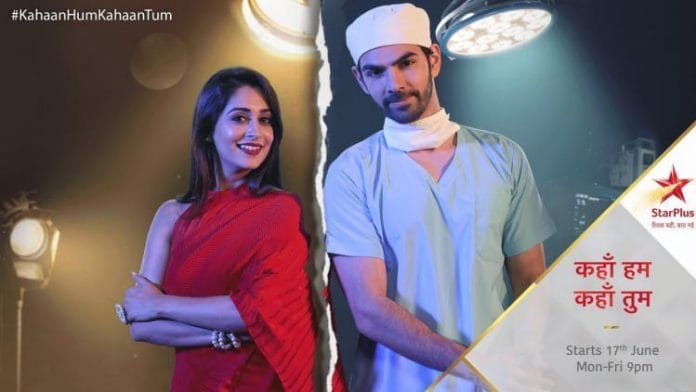 The Episode starts with Rohit sitting with a helpless face. Sonakshi tries to console him and says that they all know Ravi can't do such like this. Rohit says even he thinks the same but he gets caught red handed. He asks Sonakshi to take care of herself and not to go anywhere alone. Rohit pretends to leave the set but hide himself and is watching all of them from a safe distance and he almost noticed and developed a doubt on Mahesh when he is following Sonakshi. Mahesh in the pick of time noticed the reflection of Rohit in a mirror kept in the set and change his direction to divert Rohit.
Rohit reaches the police station and meets the commissioner. He scolds Rohit for being in the set for long, Rohit says that Sonakshi is alone there and he couldn't leave her in the state of danger. He says sorry to Ravi for slapping him in such a way but he was instructed by commissioner to do so. The commissioner says to Ravi they are sure about his innocence but the real attacker framed him in a very clear thought of mind to make them believe Ravi as culprit. Rohit says to Ravi to inform Sunita about it because she is the most close person of Sonakshi and she needs to be alert.
Rohit is in his hospital and he is instructing Tulsi about the medicines she has to give to the patients. He keeps on instructing her and ends up saying ask Ravi to keep the car ready. Tulsi looks at him in an upsetting way and says not to be worry as she has already booked a cab for him and it will arrive shortly.
A cab arrived and the hospital premises and Rohit check the details and gets into the car. A Punjabi driver was having the car and asked Rohit would he play some songs for him? The cab driver is none other than Sonakshi herself who is in disguise of a sardar just to surprise Rohit. She played the song Lag ja gale and Rohit instantly looks up. He noted the engagement ring of Sonakshi and the bracelet as well. He understands it is Sonakshi and instantly a smile comes up on his face. However he chose to play along and starts teasing her to make her angry.
Sonakshi gets angry with his words and she also decides to speak something which he doesn't like. She starts praising her co-actor Summit Khanna.
Rohit gets angry to listen to all this and says he doesn't even know how to talk and moreover, his name is also not original. Sonakshi goes further and says no matter what people will like boys similar to Sumit. Rohit asks her to stop the car and gets down. He removes the disguise of Sonakshi and starts to argue with her that what she was saying inside the car? Sonakshi says even if you are not doing any better. Both of them ends up having a cute fight and Rohit gets close to Sonakshi and says should he shows how much fire he has inside him? Sonakshi gets conscious and shy, Rohit slowly utters in her ears do not worry as he will not do anything as he is not feeling like. Sonakshi beats him and says tell me sorry. Rohit kisses on her cheek and says sorry and both of them ends up laughing together.
Precap – Mahesh comes to meet Rohit in Sippy Mansion.