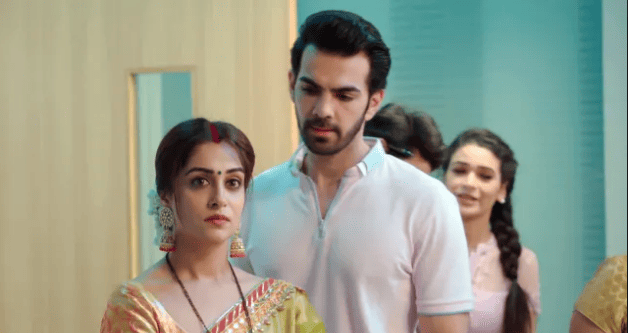 Episode starts with Vimmi bringing Sonakshi to the kitchen and goes away. Veena thanks Sonakshi for bringing happiness in Rohit's life and blesses her. Veena and Sonakshi hugs each other.
Raima's mother says to Sana and Mayank that they didn't got direct flight to Chandigarh thus they have to take Raima in an ambulance. She further thanks Sana and Mayank for always supporting her.
Nishi shows her displeasure for making Sonakshi the daughter-in law of the house in front of YK. YK asks Nishi what problem she has with Sonakshi and praises Sonakshi. Nishi says to YK that she doesn't fit in their family and Rohit and Sonakshi will go through compatibility issue. Later, YK gives gifts ring to Nishi and she gets happy. Nishi and Yk hug each other
Rohan receives message from Pari and Akash comes from behind. He pulls his leg. Rohan says he was just talking with Rahul. Ajit comes to Rohan and Akash and praises Rohit and Sonakshi. he says Rohit and Sona looks cute together. Vimmi comes and tells to Ajit that Sukmani is calling for the dessert.
Sukhmani ask Ajit to start his favorite game. Ajit ask Sukhmani to take out the chit. Sukhmani says Rohit and Sonakshi is the new couple today so they don't need the chits.
Sonakshi makes and excuse and says she has a shooting tomorrow thus she is getting late. Rohit too supports Sona. Venna says she will speak with Suman. Sona says she don't have any problem and gets ready to play the game.
Rohit and Sonakshi sit for playing the game and Ajit tells the rule of the game. He says the game is to check their compatibility. Ajit starts the game and after him each Sippy member ask questions from Rohit and Sonakshi.  Rohit and Sonakshi gives all the answers similarly. Sippys' enjoys seeing Rohit and Sonakshi together.
Raima's mother asks Nurse how much far is the airport. Nurse tells that they will take 45mins more and if there will be traffic than they can't predict. Raima's mother informs someone that they entered Mumbai.
Sukhmani and Venna bless Sonakshi. YK asks Rohit to go and drop Sonakshi home. Rohit gets ready. Sonakshi and Rohit go away. Venna gets excited and hugs Sukhmani.
Rohit apologises to Sonakshi. Sonakshi ask Rohit not to be sorry but whatever they are doing is not right. She says playing with family's sentiment is not good. Rohit ask Sona not to worry, as it is just a matter of few days. Sonakshi says only 15 days. Rohit says fine.
Raima's health worsens. Doctor asks Nurse to first bring her at airport nearby hospital. He says he will first examine the patient and than only he will allow the patient to fly. Rohit's car and Raima's ambulance gets stuck in the traffic.
 Rohit gets out of the car and says he will make a way for the ambulance. He asks the ambulance driver which hospital he is going. Driver says creative hospital. Mayank hides seeing Rohit. Raima's mother gets restless and Sana calms her down. Sonakshi too comes out to clear the traffic so that ambulance can pass. Rohit and Sona help the ambulance to pass by clearing the traffic.
Rohit drops Sonakshi home and thanks her for helping him. He talks with Sonakshi and tells her about Raima and gets teary. Sonakshi keep her hand on Rohit's shoulder and gets teary too. (Episode Ends)
NO PRECAP.