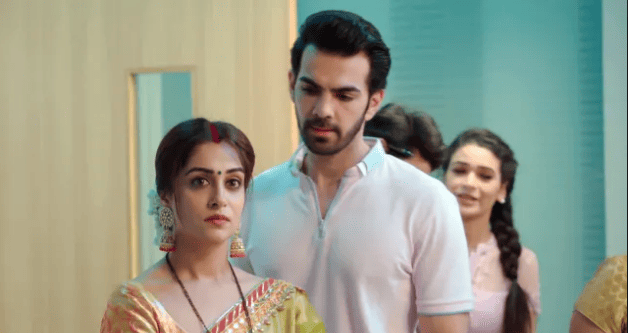 Episode starts with Sana asking Raima's mother to sit. Raima's mother gets restless and says she don't want to stay at Mumbai because of Rohit.
Doctor comes and informs that it is risky to fly with Raima to Chandigarh, as they need to monitor her condition. He says they have to do heart surgery of Raima soon. Raima's hand shows a movement.
Sonakshi comes to her home and recalls her moment with Rohit. Suman opens the door and ask Sona what is going on between her and Rohit.
Sonakshi tells to Suman that Rohit is stuck in an unavoidable situation where she is just trying to help him. Suman warns Sonakshi that she can befriend with Rohit but beyond that she will accept any relationship of her with Rohit. Sonakshi narrates nothing can go beyond friendship.
 Ajit ask Venna about Janmashtami celebration. Venna says it will be celebrated in a same way like always and this time Sonakshi too will be here for the celebration. She says she wants to introduce Sonakshi with their relatives and friends. Rohit recalls Sonkashi's word and oppose Venna's decision for calling Sona for the celebration. Ajit too supports Rohit.
Venna further says she will just do celebration this time with Sonakshi only. Nishi opposed but Venna ask her to adjust this time.
Raima's doctor calls Rohit and says he needs him for the surgery of the patient. Rohit ask doctor to coordinate with Dr. Dimppy, as she is a trained doctor too.
Venna stops Rohit and says she has invited Sonakshi to have dinner with them today. She further instructs Rohit to go and bring Sonakshi home.
Rohit goes to meet Sonakshi on her sets. He says he came to pick her up and looks for Ravi.
Pari decked up for the party. Suman says to Pari to do friendship with Rohan Sippy only for contacts. Pari says cab is waiting and she needs to go. Suman thinks that Pari is smart but Sonakshi is emotional and anyone can use her.
Rohit and Sonakshi searches for Ravi and gets shocked seeing him with Sunita. Rohit calls out Ravi's name. Ravi gets scared and Rohti ask what. Sonakshi laughs and she asks Ravi and Sunita to go and spends time together. Sunits gets happy and hugs Sonakshi.
Rohit ask Sonakshi why she sends Ravi now who will drive his car. Sonakshi says she knows how to drive.
At Rahul's pre birthday party Pari and Rohan comes. Tanya gets excited seeing Pari. Rohan says he will introduce Pari to everyone. Rahul signals to Rohan about Pari.
 Venna invites Sonakshi for the Janmashtmi celebration. Sonakshi refuses but Rohit insists Sonakshi.  Sonakshi gets ready to attend the function. She tells to Sippy's that she will do all the arrangements of tomorrow's celebration. Sippy's allows her. Sonakshi says she will meet them tomorrow and goes. Nishi thinks of something. (Episode Ends)
Precap: none.