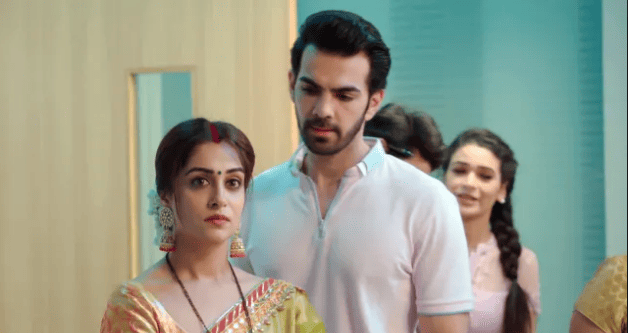 Episode starts with Rohit. He puts his mobile on charger and stands confused receiving so many back to back messages. He picks up the mobile to check and says  this mobile belongs to Sonakshi.
Sonakshi picks up the mobile to set the alarm and sees Rohit's wallpaper. She receives a call on Rohit's mobile by her number. Sona ask Rohit how he cracked her passcode. The duo talks with each other. Sonakshi says she will return his mobile tomorrow.
Rohit says to Sonakshi to inform him if she gets an emergency call on his number from hospital. Sonakshi thinks to peek into Rohit's mobile and ask for passcode. Rohit says he doesn't give his passcode to anyone but later Sonakshi gets surprised seeing her birthdate as his passcode. Rohit says because she has gifted him the mobile so he kept her birthdate his passcode.
Rohan bring drink for Pari. He returns her scarf.  Pari ask Rohan about his Bollywood producer to whom he was supposed to introduce her. Rohan makes an excuse.  Rahul comes and informs Rohan about Tanya. He asks Rohan to stay too at his place, as Tanya is not in a state to walk because she has consumed alcohol alot. Rohan ask Rahul to take care of Tanya he will be back after dropping Pari home.
 Nishi tells to YK that she will not attend function tomorrow. YK ask Nishi why she hates Sonakshi later, Nishi shares her doubt with YK and says Sonakshi is hiding something. She says she has noticed that when Venna said she will call Suman for the celebration too than Sonakshi got scared. Nishi says she will prove that she is saying right.
Naren says to Venna that she might be happy today as she finally got someone to whom she can give the necklace which she has kept from long time for Rohit's wife. Venna thinks to give the set to Sonakshi amid the function.
Rohan drops Pari home. Pari hugs and kiss Rohan before leaving. Rohan shares his intension with Rahul and tells him that Pari is different from others and he needs to be little patient.
Nishi gets a call from her clinic and she thinks of something after she heard that Suman Rastogi has an appointment today. She asks her staff to cancel Suman Rastogi's appointment because she is not well.
Rohit comes to his cabin and sees Sonakshi doing her study. He sees her studying biology and says he can help her in teaching the subject, as he is a good teacher too. Sonakshi says he will forget his biology tutoring her. Rohit says no problem he will relearn with her together. He further asks about Suman. Sona says whatever they are doing is not right. Rohit says little lie in love is worthy. Sonakshi looks at Rohit.
 Suman comes to the clinic and yells on the girl at the reception for canceling her appointment. She asks her to make a call to Nishi. Girl says Nishi is busy with some patient. Suman thinks to go and meet Nishi. Sonakshi and Suman walk on the same corridor but don't see each other.
Nishi sees Suman and doubts on Sonakshi, as she said Suman is not well. She calls Suman and Suman tries to ignore Nishi's talk.  Later Nishi deliberately invites Suman for the Janmashtmi celebration at her house. (Episode Ends)
NO PRECAP