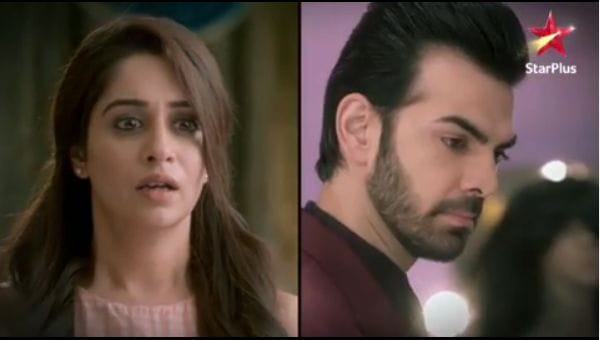 Episode begins with Sonakshi searching her book. Netra comes to Sonakshi. Sonakshi informs her that she has sent Geet to Sippy mansion for decorating the house and she will pay her for today.
Netra tells to Sonakshi about Matre's wife murder news and Sonakshi gets upset. She says to Sonakshi that this was the reason she didn't wanted her to keep any connection with Matre. Netra ask Sonakshi not to think much about it.
At Pune's Police station police discuss about Matre's case. They get surprised to see Sonakshi's number in the call list of Matre. Mr. Singh asks Ullas to head towards Mumbai, as they need to inquiry with Sonakshi too.
Rohit comes to his cabin and sees Sonakshi's biology book. He calls Sonakshi. Sonakshi speaks in a weak voice and Rohit asks the reason. Sona tells him that she is upset after hearing death news of someone she knows well. Rohit cheers up Sonakshi.
Rohit informs Sonakshi that her book is with him and he will return her back. Sonakshi ask Rohit to cover the syllabus and teach her later.
Sonakshi narrates and ask what will happen when the drama will get over? She thinks her friendship with Rohit will remain same or not? She further says she thinks anything and goes to give her shot.
Venna and Sukhmani thinks to handover their traditional necklace to Sonakshi today as she is going to be the daughter-in law of the house.
Otherside, Suman yells at Madhubala for doing Janmashtmi decoration inspite of knowing that she does by herself each year. Pari comes to Suman and ask what happened why she is getting hyper. Suman tells to Pari about Rohit and Sonakshi's relationship.
Geeta instructs the decorators to do the decoration well. Akash comes and greets Geeta. He praises Sonakshi's effort. Here, Rohan confirms to Pari that Sonakshi is coming to their house for the Janmashtmi celebration. Suman gets angry and says she will visit Sippy mansion today without informing anyone.
Sonakshi gets ready and Geeta informs Sonakshi that all decoration is done like the way she has instructed. Sonakshi ask Geeta to give bill to her only. Netra comes and praises Sonakshi's beauty.
Ullas talks with Singh and suspects why Sonakshi meets with Matre. Singh says actors keep in touch with press and politicians and doubts maybe Sonakshi having affair with Matre. He says they have to take her for the inquiry.
Rohit stands surprised seeing the house decoration. Nishi praises the decoration. Yk and Ajit too gets amazed seeing the house. Sonakshi comes and Rohit gets mesmerized seeing her. Sippy's welcomes Sonakshi and she ask them to wear the outfit which she has selected for them. Rohit says he feels uncomfortable in Indian wears and refuses to wear the dress selected by Sonakshi. Venna ask Sonakshi to make Rohit ready, as he is stubborn.
Sonakshi takes Rohit's dress and goes to his room. Rohit comes to his room in towel. Zingat music plays and Rohit removes his towel and dances. Sonakshi too dances and Rohit bumps into Sonakshi. He says sorry and Sonakshi turns around. She sees Rohit without clothes and shouts. Rohit hides behind his bed and ask what she is doing in his room.
Sonakshi says she came to give him the dress. She asks him to wear else tell his family that he loves Priyanka Chopda and bring her from America. Suman ask the driver to route Sippy Mansion. Venna introduces Sonakshi to the guests. Sonakshi gets mesmerized seeing Rohit in Indian wear. Akash praises Rohit.
Sonakshi about to talk with Rohit but Rohit goes to other girl and talks with her. Sonakshi dances on Madhuban Mei Jo Kanahiya. (It was Sonakshi's dream sequence). Pooja comes to Sonakshi and praises Sona.
Rohit comes to Sonakshi and asks Priest how he is looking. Sonakshi rates Rohit's look meanwhile, YK mother enters. She ignores Nishi and meets Sonakshi/Parvati. Nishi ask Sonakshi can she take her mother-in law with her. Salochana says she is comfortable with Sonakshi. Nishi feels bad and goes away.
Sonakshi challenges Rohit for the dance. Sippy boys' along with Sonakshi dances on Radhe Radhe song. Sonakshi, Rohit and Venna perform Janmashtmi rituals. Raima's health worsens. Doctor decides to call Rohit.
Rohit gets a call from hospital and he goes. Here, Venna gives the traditional necklace to Sonakshi, Sonakshi ask her not to, and at the same time Suman makes her entry. Suman confronts Sonakshi and ask her did she really was going to marry without informing her.
Vishal says to Rohit that patient is stable and he can meet if he wants. Rohit about to see Raima but Ajit calls and informs Rohit about Sonakshi's mother. Rohit rushes back to home.
Sonakshi says she will explain her but Suman started laughing leaving everyone confused. Suman says to Nishi is she was expecting all these dialogues. She further says Sona shares everything with her she don't hide anything from her. Sonakshi stands confused and shocked
Suman hugs Sonakshi and says she will not do any drama in front of Nishi atleast. Rohit comes and Sonakshi ask him to not speak.
Venna ask Nishi to apologize Suman. Nishi apologizes to Suman.
Police enters and ask Sonakshi to come with them. Rohit ask the reason. Police tell them that Sonakshi is suspect for one murder case. Everyone stands shocked. (Episode Ends)
Next Week: Rohit says to Sonakshi not fear, as he is always with her. Rohit ask Suman do Sonakshi didn't tell her why she went Pune. Sonakshi tells to police that she met Matre because of Pooja Sippy. Rohit hears her.