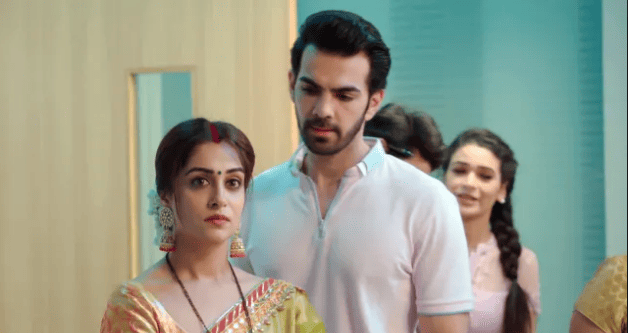 Episode starts with Rohit recalling Ajit's word. He tries dialing on unknown number but couldn't connect to it. (Bekhayali Song played in the background) Rohit recalls Sona's and his past simultaneously. He again calls but didn't get any response. He throws away his mobile and gets angry.
Rohan and Pari talk with each other. Pari tells to Rohan that she is interested in Bollywood. Rohan tells her that he has some contacts he will try giving her reference to them. Rohan and Pari exchange each other number. He drops Pari at her house.
At Sippy Mansion Dipa comes and everyone's welcomes her. Dippa ask for Rohit. Venna gives Dipa a homemade ice-cream.
Rohit comes and asks Dipa to come with him. Venna ask where he is going. Rohit tells about their plan to everyone and leaves. Nishi ask them to go carefully.
Sonakshi reaches the decided the place and waits for Dipa and Rohit. It rains heavily Rohit ask did Sona reached. Dipa says she received her text that she is already there.
Dipa gets a call from Akash. She tells to Rohit that some customer at the restaurant is creating scene so she has to go immediately. Rohit says he'll drop her first than he will go.
Sonakshi sees someone coming towards her and tries to figure out. Person knocks at Sona's window and she gets shocked seeing Karan.
Karan opens the car door and smiles. Rohit comes and sees Sonakshi's car. He dials her number and sound comes from her car. He calls out for Sonakshi.
Karan hides with Sonakshi. Sona tries to free herself. Ravi says to Rohit that Sonakshi is nowhere and it is flooding. He suggests Rohit to go back home. Rohit goes with Sona tries to call him but Karan closes her mouth.
Sonakshi kicks Karan and runs. She is about to fall while running but Rohit catches her. Rohit and Sonakshi share a hug. Sona sees Karan and hugs Rohit tightly.
Rohit beats Karan hard for Pooja's incident. Karan says he don't know about her sister. Rohit ask him to speak the truth. Karan confesses that he only tried troubling Sonakshi by harming her by firework.
Rohit beats Karan for telling lie. Sonakshi interrupts and says he is saying truth. She stops Rohit from beating Karan. Rohit threatens Karan and gives him warning. He says to him that from now onwards if he misbehaves with Sona or with any other girl than he will not spare him.
Rohit angrily walks towards the car. Sona follows him. Rohit yells at Sonakshi for getting out from the car. The duo again does an argument cutely. Ravi interrupts and says it's raining heavily and they can sit and complete the fight in the car.
Rohit looks at the rain. Sonakshi strangely looks and talks with the audience. She says he is confirming whether it is raining or not. She says he is weird.
Rohit ask Sonakshi to sit inside the car. Sona sees Rohit's wound. Rohit stops her from tearing her dress like Hindi soap. He says he is doctor and always carries first-aid box. Sona ask first-aid kit from Ravi. Ravi says first-aid is not available.
Sonakshi ask Ravi's handkerchief and ties it on Rohit's hand. Rohit ask Ravi to bring Sonakshi's stuff from her car and they will drop her.
Rohit puts newspaper all over the car seat. Sonakshi astonishingly looks at him. He says seat will spoil. Sonakshi says they are already drenches and newspaper is tearing. Rohit says but still it will make a difference.
Rohit ask Sonakshi about Karan. He further says did she think whatever happened with Pooja, Sonakshi says Summit has only done. Sonakshi further says she knew he would not come. Rohit says now he will not spare him. Sonakshi closes her eyes and Rohit adores her (Episode Ends).
Precap: Sonakshi cleans Rohit's wound. Rohit shares about Raima. Later, Rohit falls on Sonakshi. Pari looks at them.