The drama in Star Plus Kahaan Hum Kahaan Tum is always high but in spite of that the show is less dramatic if we compare it to any other Indian Television shows.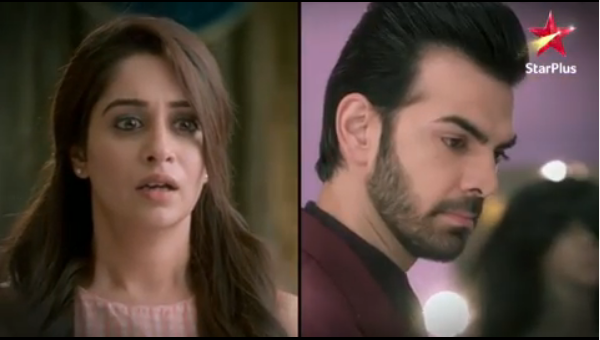 Normally, in the typical ITV shows to spice up the story if the separation between the lead of the show is shown than misunderstanding, manipulation, disagreement or argument; becomes the basic reasons for the separation. But thanks to Kahaan Hum Kahaan Tum makers they are thinking beyond this.
Such type of predictable tracks is not yet touched in the show so far. Though there were two scenes in the show where it felt Ronakshi will get separated due to misunderstanding but the climax of both the scenes turned out to be really worthy to watch.
So here highlighting both the Kahaan Hum Kahaan Tum scenes that proved it is not a typical Indian show!
Raima's entry and her accusation!
Well, if you follow the show than you must be well aware of this moment in the show. Leaving his past behind Rohit decides to confess his feelings to Sonakshi. He organized a dinner evening but the day turned out to be shocking when on the same day Rohit's ex-girl friend Raima marked her entry.
Raima sees Sonakshi at the house and accuses her for her condition and furious Rohit asks Sonakshi to leave his house.
Expectation from this whole scene was:  misunderstanding will grow between Rohit and Sonakshi and Rohit will patch up with Raima. But it happened reversely. Instead of Rohit blaming Sonakshi for Raima's condition he went to her and showed his believe on her. This was not less than the treat for the Ronakshi fans to see their favorite couple reuniting, as mostly it was expected the duo will be separated because of Raima.
2: Pooja's adoption news!
Rohit loves Sonakshi and he equally loves his family too. Post marriage he is balancing his all relationship. Well, things turned against Sonakshi when her sister Pari disclosed to Journalist that Pooja Sippy is an adopted child. She ask the journalist to publish the news highlighting Sonakshi's name. Sippy family accuses Sonakshi for all the mess.
Here too it was expected Rohit will turn against Sonakshi but instead of disbelieving Sonakshi he himself inquired about the whole truth and found her non-guilty.
These minute things in the show are making it more lovable among the audiences. Makers of the show are leaving no chance unturned to make it more interesting by each passing day. How much you love the show shoot your views or drop a heart in the comment section below.
Show stars actress Dipika Kakar and actor Karan V Grover in the lead.
Sasural Simar ka actress Dipika Kakar was Bigg Boss 12 winner while, Karan V Grover was last seen in Life Ok show 'Bahu Humari Rajini Kant'. The duos chemistry in Kahaan Hum Kahaan Tum is getting the praises from all over the globe.
Stay tuned with us for more news, spoilers and latest updates.