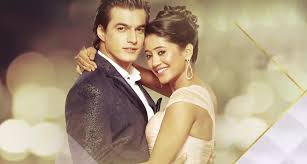 Recently, there was a bomb dropped in the Kaira( played by Mohsin Khan and Shivangi Joshi) fandom! It was none other than the caption of his latest instagram post of Rajan Shahi which he posted just after Kaira received The Best Jodi award in Stardom award. (https://www.instagram.com/p/B4ihz2DJTk1/?igshid=1y19ygwuakubv)
what's the mystery behind this feb 2020 leap? will kaira be part of this leap? will Mohsin Khan and Shivangi Joshi be part of this leap? what is the faith of kaira? why is this leap necessary now?Fans are really concerned about these few questions and they want the answers to these right not! 
Yeh rishta kya kehelata hai saw a leap recently few months back after which the next generation was introduced and kaira had a baby boy kairav. Viewers never expected the next leap so soon. Viewers wanted to see a track where kaira patch up and live with their son Kairav. The veiwers wanted to see Kaira go through another pregnancy track where Kartik will be there beside Naira during the whole time unlike the case of kairav and finally fans wanted kaira to complete their family with one baby boy Kairav and one baby Girl.
After the award function fans wanted to celebrate and were looking forward for some on set celebration on set but instead they got this shock!
Fans have come up with various theories about this news. The few main theories that the fans came up with. They are-
1. Kaira will not be part of the show and their track will end in feb 2020. ( as the caption of Rajan Shahi – "No One is greater than the show"). So the fans are sad that they wont see what they were expecting from the future track.
2. Kaira will be gone but Shivangi and Mohsin will play as the future generation.( As Ranjan quoted- "The next generation of my most loved couple").
There hasn't been any final announcement yet. Lets see what this leap brings to yeh rishta kya kehelata hai and kaira fans. Do let us know what you feel about this development!