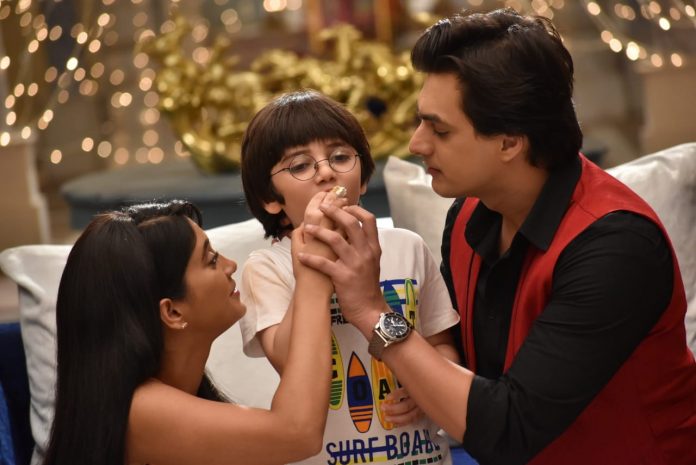 In the show Yeh Rishta Kya Kehelata we saw that for kairav, Kartik(Played by Mohsin Khan) turned into Jolly. When Naira(Played by Shivangi Joshi) fell into the swimming pool and Kartik had to jump and save Naira, at that time Kairav came to know about Mr. Jolly's truth. This lead to a dissappointed Kairav.
After lot of convincing, we see a cute decoration in Goenka villa. In the decoration, pink clouds, blue butterflies and twi rainbows where present. This decoration was accompanied by few punjabi dancers doing bhangra. This surprises Kartik and Naira , the only thing they can think of was this decoration is same as what Naira had told Kairav, that when he will meet his dad all these things in decorations will be present.
Suddenly Kairav gets out from a gift box and runs towards Kartik and hugs him. He apologises for all the rude words he accused his father of. Kartik and Kairav's this milan makes everyone happy.
---
So here,  we bring you some pictures from this cute milan of father and son duo. This milan was filled with so much emotions.  
This milan is a pure indication that Kaira milan is in lines. For Kaira, diwali always brings happiness for them. For a memory, we all remember first diwali of Kaira when the love triangle with Gayu(Played by Kanchi earlier, now Played by Deblina Chatterjee). That diwali made come Kaira together and that was the beautiful beginning of Kaira's journey.
This diwali also we are sure there will be some twist and turns with Vedika (Played by Pankhuri Awasthy) returning. Keep following us to see the Kaira Milan news soon!
We hope to see Kaira back with more love. We hope to see Kaira with Kairav as a happy family soon. Let us know in comments what do you feel about this cute milan.