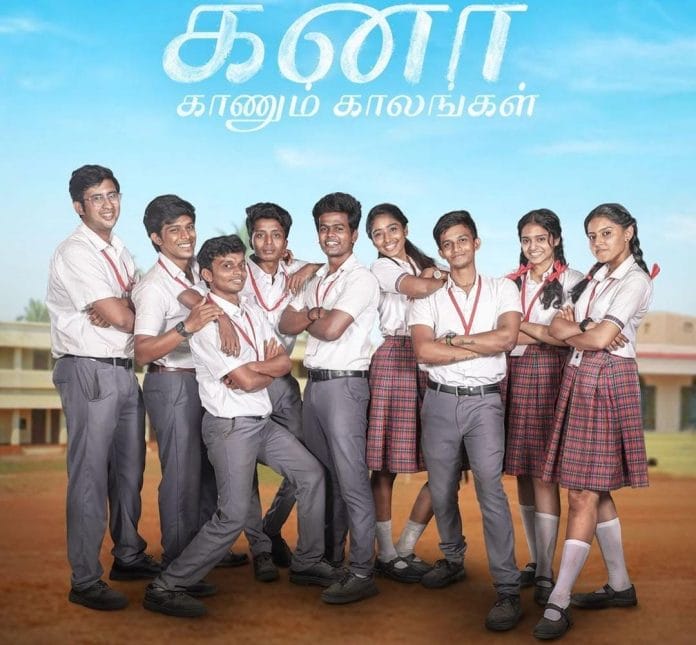 Kana Kaanum Kaalangal Upcoming Story, Spoilers, Latest Gossip , Future Story, Latest News and Upcoming Twist on Justshowbiz.net
The episode starts with Siragugal school. Principal walking around the school and remind his students achievement. He feels happy to recollects their precious moments. Peon asks him what's he thinking? He says that after two long years this class will be filled with school students voice. Many students will be coming to this class tomorrow! Peon says that in this surrounding area ours was the only school with 4 sections in the 11th standard. But now not even one class has been filled with students yet. Principal asks him what's in number? It's only attending purpose. Now only lock down end so students will join after this pandemic. Let's believe this school will change our lives for the better.
Later Kalai thinks about his dark past how did he harmed police when they tried to arrest him. They punished him in child welfare office. Police planned to take revenge on him using children's. Children torturing him inside the jail. Chief advised to Kalai that nothing in the world can be achieved with anger. Your short -tempered demeanor led you to this place in your youth. It has separated you from your family. Make sure your anger doesn't ruin whatever left of your life. If there is any feeling that we cannot control, it has the power to destroy us. In this world there are more people who have died of anger than ones who have died during fights. Never feed anger, lest one day, it swallows you whole. Don't get too emotional. There is nothing in this world permanent. And so, keep away from everything. Put out the fire of your anger with an ocean of love. Ignore the matters which concern you. Remember this if someone don't mention him with his name don't give heed to them. Later childence discuss about Kalai's release. They says that they brought him here since he is a minor. If he commit this mistake outside he will be in bigger jail. Once he commit mistake it won't leave him. Meanwhile warden advise Kalai to use his second chance. Only education give better life to him. He shares to him there he got admission for him in Siragugal school.
Guatham's gang hears 11th and 12th standard school reopen. Title song plays. Abhi and her friends enters into school while discussing they missed this school. Someone says she was searching for this uniform after long days. Her friend says that Abhi even forget the way to go school and reach here using Google Map. Her friends teases Abhi for being famous in lock down using social media. Abhi taunts them for mocking her. They discussed about online class. They searched for their boys gang there. Boys gang shows there they are sitting sad there after school reopen. Gautham reaches there and notices them sitting sad. He enquires to them what happened? They shares their grief to him. His friends discussed about their social media page and it's followers. They fears school won't give leave to them after this two years vacation. He says that he can't able to think about test and homework. Gautham asks them to behave like 11th standard students. Flash news kicha comes there and informs to them that their class mate went to another school. He is missing his class mates. Many new students came here. Gautham says that they are senior here so let's deal with them. Abhi's gang comes and join with them. They teases Gautham's gang.
Meanwhile H.M talks with one mysterious person in phone. He assures to him that as he planned he will close this school asap and give the key to him. This correspondence whom reopened this without his knowledge. Poochiyappan comes there and shares his emotional message to him. He lashed out at Poochiyappan for not knocking before entering into his room. He convinced him and says that they wanna do many things in this school. One new student comes there and scared to see the students and staff there. He gets doubt who is new and old students here. Raju introduces himself to students and tries to be friend with them but they ignores him. He thinks none of them seems interested in it. Chellamuthu comes there and introduced himself to all. Raju tries to be friend of him but he concentrate on girls first. C.M ( chellamuthu) tried to impress Haritha. She glares him. He irritates the students and join with Raju. He says to all students that its hard to remind everyone name here so he gonna keep nick name to all. Students glares at him.students beats him after learning he is also new student. Abhi's gang enters there and greets the girls there. One of them informs to new students old students are coming. They rags new students there. They teases that no one is here in hero format. Kalai gives entry to school. Abhi advises to Gautham that they might welcome our new students instead of ragging them. Gautham noticed Kalai there and doubts who is that? He throws duster on him he answers to him calm way.
Episode end.