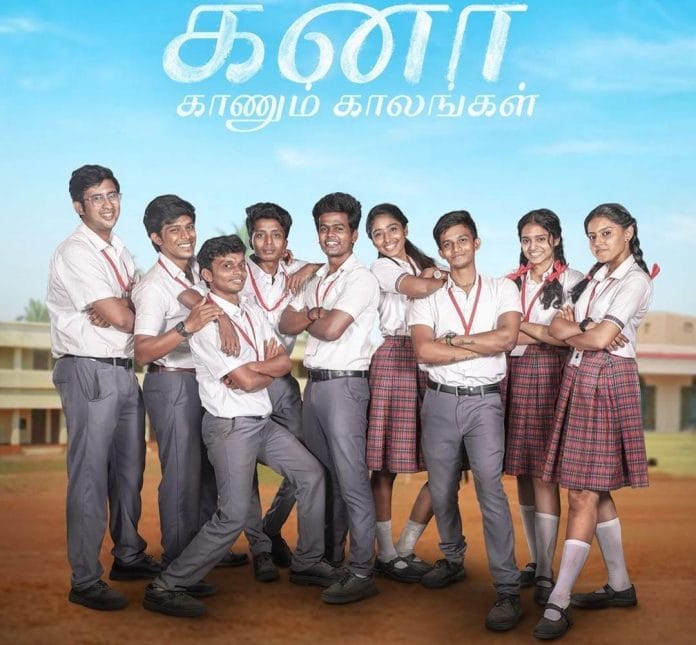 Kana Kaanum Kaalangal Upcoming Story, Spoilers, Latest Gossip, Future Story, Latest News and Upcoming Twist, on Justhowbiz.net
The episode starts with Malar, she is taking class to her students. Nandini comes there hesitating. She gets her permission to enter into class room. Nandini shares to her that she is new student to this school. Malar welcomes her and informs her everyone gave their self introduction. Now she can introduce herself to them. Nandini hesitates to introduce her because Vicky and Gopi are keep mocking her English. Malar scolds them for making her feel uncomfortable. Nandini shares her previous school name and her passion to become a doctor. Gautham admires her and scolds his friends for teasing her. He slaps Gopi for mocking at Nandini. Malar asks Nandini to take her seat. Nandini sits beside Haritha. Haritha asks her to take notes. She shares to her that she didn't bring notes. Haritha gives new notebook and pen to her. Nandini thank her. Haritha introduces herself to her and learns she is from Tamil medium. She makes her feel comfortable near her. Gautham keeps staring Nandini there.
Poochiyappan rushes near Bhairavan cabin and informs to him that Sakthivel received some letter. His face reaction got changed after saw that. There is something in it. It will be a serious matter it seems. Bhairavan doubts what's in it? Poochi adds that he saw Sakthivel share the matter with that peon Sahayam. Bhairavan asks him then why didn't he enquired to Peon about it? He complaints that he asked to him but he is not opening the mouth at all. He is diverting her topic. Bhairavan wishes to find out the truth somehow. Later he goes near Sakthivel whom sitting alone on play ground. Bhairavan asks him what's bothering him? He apologises to him for talked rude with him before. Sakthivel assures to him that he don't mind it. Bhairavan shares to him that his friend informed to him that his school got letter from Government to close their school reasoning their school strength is low. Many students got their TC and staffs too resigned from there. They asked him Is vacancy is here? Even our school facing the same situation. Sakthivelu asks him to stop worrying about strength. He asks him to teach the students whom studying here. He leaves to take lunch.
In lunch period Raju is trying to impress his classmate girl. She is reading him for irritating her. He searches for Chella there. He comes and joins with him. Meanwhile Haritha and Nandini are ready to take their lunch but Nandini is little bit hesitated. Haritha opens her lunch box and gets surprised to see Kali in her box. Nandini feels embarrassed to show it to her. Haritha exchanged her box and tells her she love kali but her mom don't cook it for her. Nandini feels happy to see her tasting it. Raju and Chella starts to eat from her lunch box. Gautham keeps staring Nandini there. Abhi gangs comes there and asks to Gautham why didn't he bring lunch box? Her friends makes fun with him. Murgan takes their order. Kalai comes there hesitated and sit in front seat. Gopi and Vicky mocks at Gautham for scared to see Kalai after learning he is closed to Correspondent. Murugan noticed Kalai is starving he gives food to him. Kalai eats the food in rush and informs to him he don't have money to pay it. Murugan tells him nothing to worry. If he is hungry come to him he will give food to him. He asks him to start an account in his name.
Later Poochiyappan shares to Bairavan read John working in GD. He is damn sure that letter came from government office so he can confirm it from what's going on? As he said Bairavan calls to John and learns from him that school gonna be closed soon. First warning letter already send there. After three letter it will be shut down soon. Bairavan gets happy and asks Poochiyappan to arrange staff meeting asap.
Later Gautham gangs are playing Basket ball in ground. Kalai's gang come there to play but opponent didn't allow them to play their. Finally they comes up with a challenge. Whom throwing balls into basket there times without fail will be owned this place. Gautham finishes his round. Kalai puts three ball well but at last ball he got confused with his past and drops it down. Later Bairavan shares to staffs that school gonna be Shut down asap. He narrated the situation to them. Peon informs to Sakthivel about the sudden meeting he rushes to there. He feels proud to see Malar supporting him there and other staffs are agreeing with her point.
Meanwhile Haritha walked Nandini back to her home. She greets her mom and appreciates her cooking. She asks her to pack lunch for her from tomorrow and takes her leave. Nandini's mom motivate her to study well and become a doctor.
Episode end.