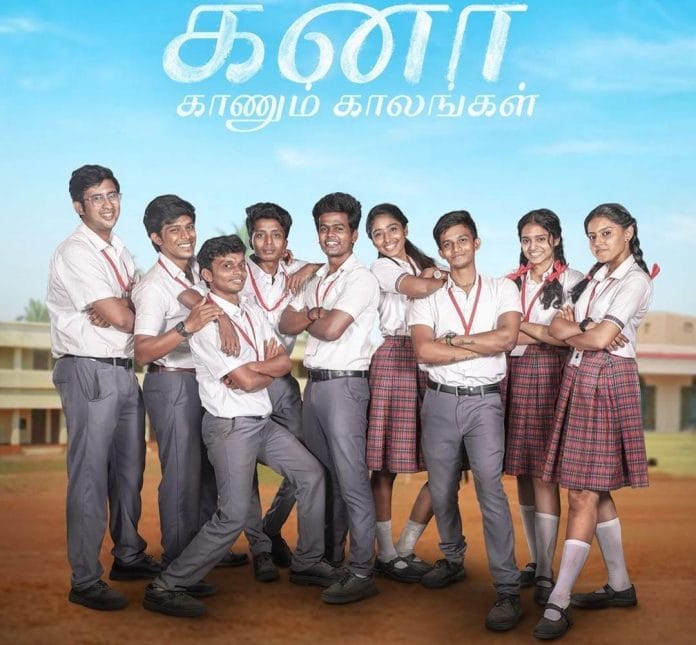 Kana Kaanum Kaalangal Upcoming Story, Spoilers, Latest Gossip, Future Story, Latest News and Upcoming Twist, on Justhowbiz.net
The episode starts with Kalai, he is sitting in school campus. Raju and Chella joins with him. They are discussing about the basket ball challenge. Raju mocks at Chella for giving speech now instead of playing on the spot? Chella gives silly reasons to it. Raju asks Kalai what's bothering him? They are really happy because Kalai became a class leader, he gave tough to them in sports. They thought to rag then but their plans backfired. Kalai about to leave from there excusing them. Raju offers lift to him but he denies it. He shares to them that his house is nearby so he can walk back to home. Chella asks him to take care and advises him to don't trust Raju in funny way and leaves bidding bye to him.
Sakthivel's son talked with him in phone. Raghu enquires him about his health. Nisha too talks with him and discussed with him about their business. Sakthivel shares to him that he wanna talk with him about school matter. Here situation is not good. He asks him to come here and help him to save this school. Raghu shares to him time he was pretty busy here so he can take Guna's help there. Sakthivel sigh hearing his name. Later Bar shown Guna and his friend are drinking there. People's are badmouthing Guna for behaving worst and blames his father's upbringing. Guna beats him with bottle and breaks his head. He scolds him for taking his father name. He asks him to badmouth about him instead of taking his father name. He goes out from bar along with his friend.
Kalai roaming in road and searches for a job to do in night time. He asks job to one hotel owner. He asks him to show his ID card. Kalai says that he don't have identity card because he is studying in Siragugal school. He accepts him as server in his hotel. Kalai assures to do any work here. He gives place to Kalai to stay there. He demands him to wake up at 5 and complete his work morning itself. He can go to school and he might return to work after school over. Kalai nods to him. Kalai calls to his warden and informs everything to him. He genuinely feels happy for him.
Sakthivel waiting for his son. Guna asks his friend to go back he don't wanna face his father. Deva denies it and demand him to stay with him. Let's face this situation together because they drank together. Deva blabbers into Sakthivel. He mocks at them for talking in English wrongly. Guna and Deva are trying to manage the situation. Sakthivel advises to him. He feels sad to see his son drinking daily and wasting his life like this. He compares him with his brother Raghu. He requests him to stop drinking and come with him to school and take care of management. Guna asks him to call Raghu and handover this to him. Guna says that this school won't set to him. He shares his grief to Guna and feels guilty for not taking proper care on him after his mom's death. He leaves didn't give heed to his words.
Next day Gautham team are mocking Kicha there. Raju and gangs comes there. Both teams gets into an argument. Gautham's team demands Kalai to challenge him again with five shots. Kalai accepts his challenge and win in it. He clears to Goutham that he wanna be a friend of him but he is treating him like his enemy. Gautham leaved from there. Later Malar gives leader badges to both Abi and Kalai. She asks them to collect record book from store room. Abi apologize to Kalai behalf of him and being friend with him. PET sir enquires Kalai about his school and place name? Abi Anders to him seeing his reaction. Seniors discusses about Abhi when she crossed him.
Later Peon informs to Malar that her father was sick. She rushes out to witness Guna there with his friend. She lashes out at him for wasting her time and ruining his life like this drinking. She demands him to take care of school but he denies it. He demands her to give money to him. She gets fed up and pay money to him. Layer Swetha shares to Goutham that Abi changed her team it seems. He supports Abhi there.
Episode end.