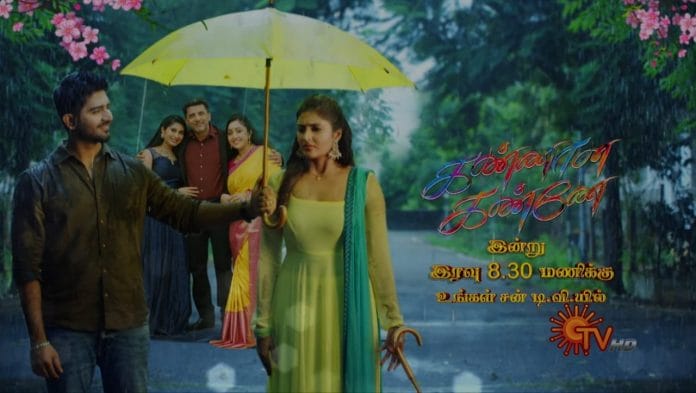 Kannana Kanne Upcoming Story, Spoilers, Latest Gossip, Future Story, Latest News and Upcoming Twist, on Justhowbiz.net
The episode starts with Gautam family welcoming Venba and Kavin. Gautam and Yamuna praise Venba and Kavin and bless them. Kavin ask for Yuva. The latter arrive there. Meera gets emotional on seeing Yuva and thinks that she decided to sacrifice her love and destroyed the diary on which she wrote about her love him. She could easily destroy the diary, but could not erase his memories.
Yuva is taken to the stage and the nallagu ritual is performed. Yamuna calls Meera to do Yuva's nallagu. Meera obeys. Enna vittu engadi nee pona song plays in the BG. Yuva's nallagu ritual gets complete. Pushpa tells Yamuna to bring Preethi. Yumana goes to Preethi's room and doesn't find her there. Yumuna panics and rushes to Gautam and tells him the same. Gautam listens to her calmly and says that he knows where Preethi is. Gautam wants to surprise everyone bringing Preethi in a palanquin but the latter surprises all by coming in a bike. Preethi's nallagu function gets completed. Gautam gives an emotional speech about her bonding with Preethi. A famous singer sings Kannana Kanne title song for Preethi. The latter tells to Yuva that this singer is her favorite and her dad called to the wedding to surprise her. Meera feels bad and cries.
Vasuki comes to Dharmadurai and asks him why he didn't kidnap Preethi yet. Dharmadurai assures Vasuki that he will kidnap Preethi before the marriage. Other hand, Gautam brings Yuva and Preethi to the stage. Gautam says that his friends are asking him how he easily agreed for her daughter's love. He says that he will conduct an event now and prove that Yuva is a correct match for Oreethi. He further says that Kavin and Venba will conduct this event and will ask questions to Yuva. Gautam says thatbKavin has left his mother and his luxurious life for his life Venba and refused to take his help saying that he wants to become successful in his life on hisvpwn.
Kavin and Venba start questioning Yuva. They ask first what is love. Yuva says that loving everything the girl whom we love is called true love. Then they ask what her lover likes. They ask to say any three things. Yuva tells three times dad and adds that all she loves is her dad. Kavin asks Yuva what is his favorite gift from her lover. Yuva says the Meera statue. Meera gets emotional hearing this. Gautam interrupts and says that he had also gifted his wife, Kausalya, Meera statue. His daughter also thinks like him.
A police inspector called Dinesh attend the function. He is family friend of Gautam. Yamuna and Gautam welcome him. Dinesh says that he can't stay till the marriage and wants to congratulate Preethi. Gautam takes Dinesh to Preethi. On the way Dinesh tells Gautam to accept Meera as her daughter, but Gautam stops and Dinesh and avoids that topic.
Meera goes to Yuva and tells him to get ready Yuva refuses saying that he doesn't want to betray Preethi and Meera by doing this marriage. Meera pleads with Yuva to marry Preethi and save Gautam's reputation. They argue. Yuva agrees, but he puts a condition. He says that Meera told she hates him. He asks her to prove it by looking into his eyes for one minute. Meera agrees. Unakaga varuven song plays in the BG. Meera cries. Yuva asks if their love is a lie. Meera shouts no. Yuva requests Meera to elope. Meera refuses. Other hand Gautam gets a call, so he couldn't accompany Dinesh till Preethi's room. He tells Preethi's room to Dinesh. The latter stops hearing Meera and Yuva's conversation. Meera admits that she loves Yuva, but she tries to convince Yuva to marry Preethi for Gautam's sake. Dinesh hears Meera's confession.
Dinesh confronts Meera and asks what happened that Yuva and Meera have to sacrifice their love. Yuva narrates him what had happened. Dinesh tells Meera that it's wrong to sacrifice her love for Preethi and Gautam. He further says that Yuva and Meera got married when they have cinfessed their love and God had sent Yuva in her life and she should not miss Yuva for her dad. Meera begs Dinesh to not tell the truth to anyone. Dinesh agrees. He gets ready to leave without meeting Preethi, but Meera insists Dinesh ti give his blessings to Preethi and takes him to Preethi's room. They notice someone kidnaping Preethi. Meera informs about this to Roshna and She leaves with Dinesh to save Preethi.
Yamuna comes to take Preethi to the mandap. Roshna lies that Preethi is still getting ready and she will bring her down. Yamuna leaves. Dharmasurai brings Preethi to an factory. Dinesh and Meera reach there. Dinesh fights Dharmadurai goons. Dinesh and Dharmadurai start fighting. Meera goes to Preethi and tries to wake her up. Dinesh questions Dharmadurai why he kidnapped Preethi. Dharmadurai says that he's Meera's uncle and he kidnapped Preethi to stop the marriage. Meera expresses her disappointment to Dharmadurai and says that he is trying to separate her from her dad. Dinesh tries to talk sense into Meera, but in vain. As Meera threatens to kill herself, Dinesh and Dharmadurai tell Meer to take Preethi to the marriage venue.
Meanwhile Yamuna overheras Yuva and Vasuki conversation and learns that Yuva loves Meera, not Preethi. Meera is sacrifying her love for her dad. Yamuna gets shocked. Vasuki promises Yuva that he's marriage will happen with Meera. The latter reach the marriage venue with Preethi. Yamuna confronts Meera and slaps her.
The episode ends.