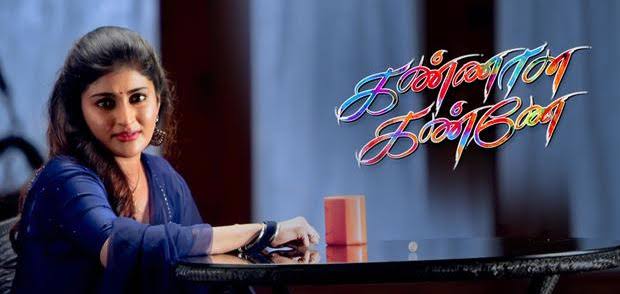 Kannana Kanne Upcoming Story, Spoilers, Latest Gossip, Future Story, Latest News and Upcoming Twist, on Justhowbiz.net
The episode starts with Meera threatening Yuva to kill herself if he doesn't marry Preethi. Meera walks away leaving a shocked Yuva behind. Preethi's mehndi function announcement is made and she was called. Preethi comes while Idicha Pacharisi song plays in the BG. Preethi happily dances with the dancers while Yuva looks unhappy. Yamuna tells Meera to take Preethi to the stage. Meera obeys. The song continues and the dancers dance while family rejoices. Yamuna tells the host Roshna to say why mehndi function is celebrated. Roshna says that she doesn't about the history and calls Yamuna to the stage to explain the reason to apply the mehndi on hands. Yamuna agrees. Yamuna tells that the mehndi darkness defines the depth of husband's love for her wife.
Renuka takes Aparna aside and asks if she's not sad with Yuva and Preethi's marriage. Aparna says that she isn't sad at all and moreover Yuva doesn't love her. She adds that Renuka wants to get married her to Yuva for the property. Renuka denies it and says that she wants this marriage happens so that their family doesn't break. She has faith that Aparna and Yuva marriage will happen, so she brought saree and nuptial chain with her. The latter says that her dream won't get fulfilled, she has to take back the saree and the nuptial chain home.
Yamuna says that Preethi and Yuva's marriage is love marriage and they're going to test Yuva's love for Preethi by applying mehndi on the latter's hand. Yamuna adds that all married women can apply the mehndi and invites those who are intrested.
Preethi calls Meera to apply mehndi with her. Meera refuses initially, but she agrees when Preethi and Yamuna insists. The mehndi designers strat applying mehndi on Preethi and Meera's hand.
Vasuki takes Pushba apart and asks how she can be happy. Pushba says that Yuva told that she's aware of the truth. She wishes to unite Yuva and Meera, but she doesn't know any way. Vasuki says that she has a plan to get married Meera to Yuva. She tells the plan which is muted. Pushba gets elated hearing this and says that she was clueless how to unite Yuva and Meera, but she has given a nice idea. They decide to execute the plan.
Thalattu serial leads Isai and Vijay arrive at the function location. Meera gets shocked on seeing them while Yamuna gets elated and welcome them. Yuva apologizes to Vijay for not being able to invite him. Vijay says that he knows his situation and has come to help him. Vijay takes Yuva apart.
Meanwhile Meera calls Isai apart, but Isai tells that she wants to talk to Preethi first. Isai tells Preethi tha she always took care of her sister, but she let Meera down in the marraige matter. Preethi looks confused.
Meera takes Isai apart. Vijay asks Yuva why she agreed to marry Preethi. Yuva says that Meera threatened to kill herself. Isai tries to change Meera's mind, but Meera is stubborn and says that she can sacrifice anything for her dad's happiness. Here Yuva tells Vijay that he wants Preethi or Meera to stop the marriage. If they don't stop, he has a plan to stop this wedding. Gautam will himself request him to marry Meera.
The episode ends.