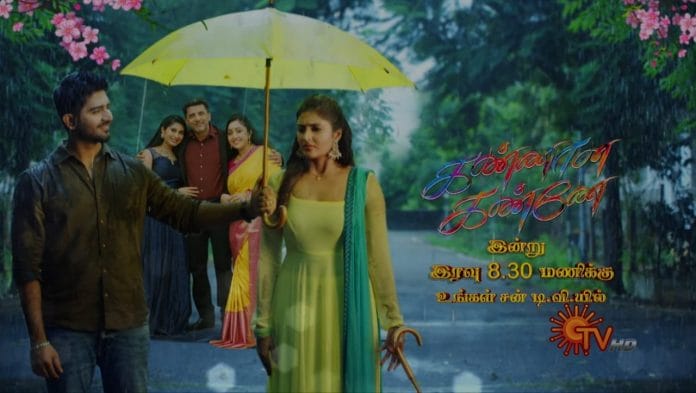 Kannana Kanne Upcoming Story, Spoilers, Latest Gossip, Future Story, Latest News and Upcoming Twist, on Justhowbiz.net
The episode starts with Vasuki calling his brother Dharmadurai. She says that she trusts only him to get Meera married to Yuva. Dharmadurai says that he will definitely fulfill his sister's wish. He will help her also for his deceased sister Kausalya's daughter Meera's happiness. He says that he's coming before hanging up.
Vasuki informs Gautam and Yamuna about his cousin's Dharmadurai's arrical. Gautam remembers that Kausalya talked to him about Dharmadurai. Vasuki says that Dharmadurai is from village and will expect them to welcome him family. Gautam and Yamuna agree.
Gautam and Yamuna get surprised on seeing Yuva's parents standing at the doorstep and ask if they're waiting for anyone. Yuva parents say that they are waiting to welcome Dharmadurai from the groom's side. Dharmadurai arrives and family welcome him. Gautam introduces him to everyone including Preeti and Yuva. Vasuki introduce Meera to Dharmadurai. The latter says that Meera looks like Kausalya, but her beautiful smile is missing. He assures Meera to bring back the smile on her face. He also promises Yuva his marriage will happen as he wants. Vasuki takes Dharmadurai apart to have a talk.
Vasuki asks how is the jodi of Meera and Yuva. Dharma says that they are perfect. Vasuki tells that they have to execute their plan without any mistake. She tells that they have to kidnap Preethi before marriage, so that Meera becomes Yuva's bride. Vasuki tells that Meera shouldn't know about this else Meera will never agree to marry Yuva. She tells Dharmadurai about Preethi's room location and tells to kidnap her before morning. Dharmadurai assures her that everything will go according to her plan.
Yuva shouts at the wedding planner te for organizing drinks party. He says that even Gautam doesn't like this. Dharmadurai hears this and thinks that he can intoxicat Yuva and makes him spill the truth instead of kidnapping Preethi. Dharmadurai goes to Yuva and convinces him to give company to him to have drink.
Dharmadurai praises Yuva for not getting addicted to drinks when he didn't get his love. Yuva looks shocked. Dharamadurai tells that he knows that he loves Meera. Dharmadurai calls a waiter and tells to bring drinks for Yuva. The latter refuses to drink alcohol. Dharmadurai says that he's ordering only juice, but he signs the waiter to spike Yuva's drink. After a while the waiter brings juice. Yuva drinks it. Dharmadurai tell Yuva to pour his heart out.
Yuva says that he loves Meera, but she threatens to kill herself if he doesn't marry Preethi. He says that he shares his pain with him as he's Meera's uncle. Dharmadurai persuades Yuva to have alcohol. Dharmadurai says to Yuva that he can't tell the truth to Gautam when he's normal, but he can tell Gautam the truth in this intoxicated state and save three lives from getting ruined. Yuva says that he will speak to Gautam and stop this marriage.
Yuva goes to Gautam. The latter is facing his back towards Yuva. Yuva tells Gautam to not turn and says that he misunderstood he loves Preethi and arranged their marriage. He spoke to Preethi and Meera to stop this wedding, but in vain. He confesses that he loves Meera, not Preethi. Meera sacrifices her love for Gautam's sake. Meera got Japon project for Gautam when he was blind. Yuva requests to unite Meera with him. Meera sacrificed everything for Preethi, but he can't sacrifice Meera, so he confessed the truth to him. Yuva reminds Gautam that the other day Gautam asked him what he wants in return of saying Yamuna. He says that he's asking now to give Meera to him. Yuva cries. Meera comes there and looks shocked.
The episode ends.