Leap ahead in Yeh Rishta Kya Kehlata Hai.
Post, Naira's demise shattered Kartik decides to end his life. Naira's soul stops him to take such drastic step and encourages him to stay alive for their children. Kartik gets adamant to go along with Naira but Naira makes Kartik understand that family needs him. Kartik says to Naira that he has always loved her and will keep loving her.  Naira says to Kartik not to tie love and let it flow. Song 'Lad Ja Gale', plays in the background. Naira asks Kartik to smile as she wants to bid adieu with his smiling face. She adds she wants his smiling face so that when they meet again in next birth than she remembers his happy face. Naira goes. Kartik smile seeing sky lantern.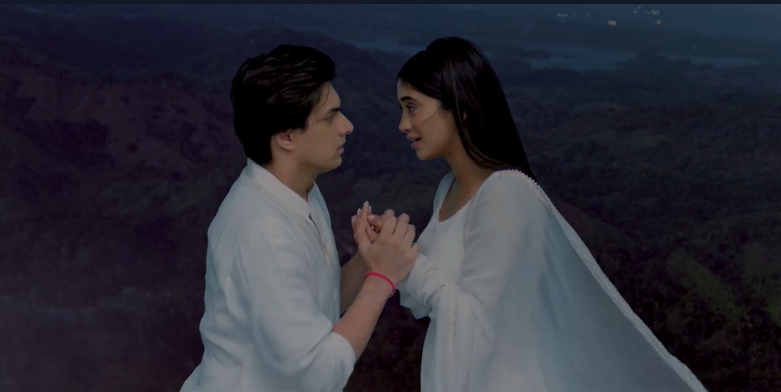 Next morning, Kartik comes back home. Here, Goenka's wait for Kartik. Akhilesh says it's morning. Naksh suggest to complaint to police. Akhilesh see Kartik on doorstep. Goenka's stands stun seeing Kartik. Kartik go near Naira's picture. Akshara cries in the meantime. Kartik takes Akshara from Gayu and see her. Kairav, Gayu, Suwarna and others get happy. Kairav go to Kartik. Kartik hugs Kairav and asks Goenk'a not to worry as he is back. Krishna hugs Kartik too. Ahead, Kartik packs up Naira's things recalling her last words. He keeps her bracelet at last and closes the trunk.
Now it will be interesting to watch, has Kartik really moved on in his life or what he is upto. Well to know more keep watching the show mon-sat on Star Plus.
In the upcoming episode, Kartik will receive a flying kite with a shocking message on it. How Kartik will react to the message will be interesting to watch.
Stay tuned with us for more news, spoilers and latest updates.