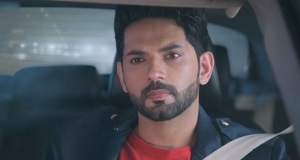 Kabhi Kabhie Ittefaq Sey: Anubhav (Manan Joshi) cross limits, questions Gungun (Yesha Rughani), Arman's more than friendship bond
Star Plus popular daily soap Kabhi Kabhie Ittefaq Sey is gearing up for high voltage drama and twist.
Gungun is moving ahead in her career and wants to make it big while Anubhav isn't much happy with it.
Anubhav isn't happy with how everyone is praising Gungun's success and he is being know by her name.
Akriti adds more spice to Anubhav's this feeling of distress and Anubhav too shares that he regrets marrying Gungun.
Arman returns to help Gungun
Gungun is facing a tough time in her personal life and now she even learns about her illness.
Arman is stunned to see how Anubhav and Gungun's relationship is deteriorating and Gungun is suffering alone.
Arman stands with Gungun and here he supported Gungun amid this crisis of brain tumor and even snaps at Anubhav.
Anubhav and Kulshrestha's refuses to attend the success party of Gungun, Arman snaps at Anubhav for being jealous of Gungun's success.
Anubhav too cross limit this time and tells Gungun that she has Arman with her now and she won't need anyone.
Gungun is hurt hearing all this from Anubhav, while Arman turns her support system.
Where is the story leading to, is this the bitter end of Anubhav and Gungun's love story?
Stay tuned for more exciting updates only on justshowbiz.net