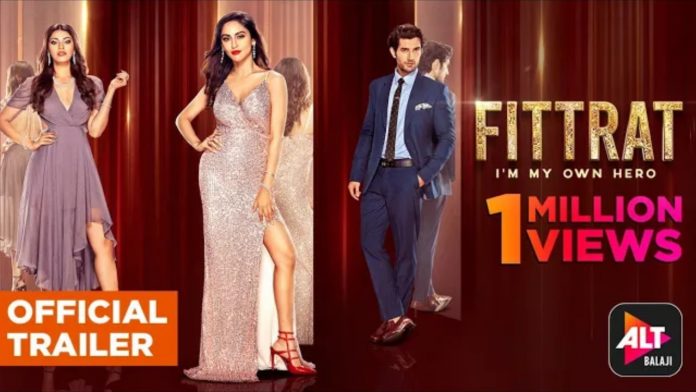 Yesterday,the OTT platform 'Alt Balaji' released the trailer of its new web series starring Krystle Dsouza, Aditya Seal and Anushka Ranjan, named 'Fittrat.' The show marks the return of the pretty Krystle D'souza to acting field after being absent from TV for quite a while. Also, this will be her first venture in the web space.

'Fittrat' trailer seems to be quite interesting. Krystle is playing the role of a girl whose aim in life is clear. Being rich is her plan and she has a roadmap for it too.
Since the childhood,her character,Tarini Bisht knew she didn't want to be a gold medalist but instead a gold-digger. Her plan?

"Ameer se ameer bande se shaadi would buy me all the gold I want!"

And for that all she needed was her rich childhood friend,Amy (Anushka Ranjan).
She is ready to spot a rich guy and doesn't hesitate to jump at him at first sight to forward her plan.

Amy's mother though doesn't like Tarini at all and guesses her intentions too. Inspite of everything Tarini's plan is going in right direction until she meets Veer Shergill whom she describes as "21st century symbol of love". Veer Shergill is played by the Karan Johar's 'Student Of The Year 2' fame Aditya Seal.
The love progresses and all seems fine until she finds Amy introduces Veer as her fiancee. And here on everything gets complicated.

Veer is ready to give Tarini everything she has ever wanted but Amy means more to Tarini than anything else.

But when Amy finds finds out, it creates a rift between the two friends and their childhood friendship.

Tarini realizes the journey wasn't about the gold-digger but was rather about the gold that lies within.
The promo looks extremely promising and lavish. The cinematography has to be really applauded here. The trailer features some really beautifully captured shots. The storyline is new and the characters looks strong and with a grip. It's a tightly cut trailer that has all the elements to make you play the trailer twice.

The trailer of 'Fittrat' also features a number of original songs in the background that sets and captures the mood of the scenes exteremly well.

Krystle D'souza and Aditya Seal have some explosive chemistry judging by the trailer and make a really good-looking couple onscreen.
While Krystle's Tarini Bisht is a layered character, Aditya's character too seems to be of grey shade. The trailer had too little of Anushka Ranjan compared to Krystle and Aditya but she also holds her ground.

Krystle's new journey as Tarini looks spectacular and it genuinely great to see her getting to play different emotions at a strectch as an actor rediscovering her talent.

To watch more, you can join Tarini's journey as she searcg for her 'Fittrat'. The show will be available for streaming from 18th of October on Alt Balaji.

We at JustShowbiz wish the actors all the best! You guys tell us what you liked in the trailer in out comments section and till then let's get biiiizzzzziiiinnn'!!!!!