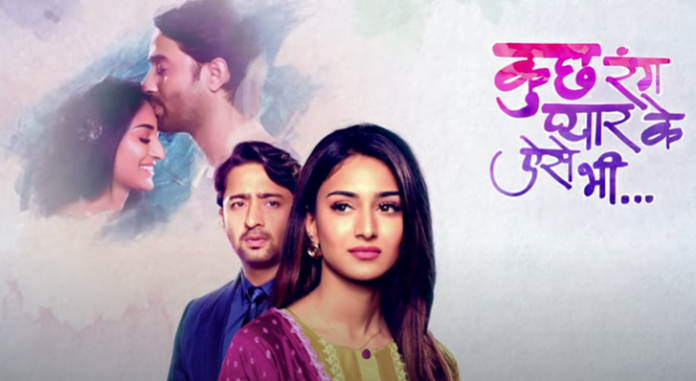 Kuch Rang Pyaar Ke Aise Bhi Upcoming Story, Spoilers, Latest Gossip, Future Story, Latest News and Upcoming Twist, on Justhowbiz.net
The episode starts with Sanjana pleasing Reena to not reveal anything to Dev. Sanjana says she saw him looking at they board in mirror and knew she will be here. Reena asks how could she act so selfish and spoil Dev's life. Sukhi hears their talking when Reena will say that she forged her divumentsyto get into the company and now creating problems for Dev. Sanjana pleads Reena to not reveal anything to Dev. Sukhi rushes to Dev's cabin and calls him immediately to say about Sanjana. Dev will come to cabin and Reena say that she has something fo say to him about Sanjana. She thanks him for giving such a great opportunity to Sanjana to work with him.
Sukhi asks Why's she lying agd asks her to say the truth but Reena says it's the truth. Dev asks what's the important thing she wanted to say. Sanjana says that Reena has contacts with best lawyer and she can able to help with Vicky's case. Sujhi keeps asking him to not believe her but Dev dismisses him off calling it work tension. Sanjana and Reena comes out and Reena will say that she didn't say anything keeping their friendship in mind and she deserves a chance to correct herself. She asks Sanjana to mend her ways and not to anything further. Sanjana promises her that she won't plot against them anymore and Reena leaves warning her. Sanjana looks angrily at her back.
At Dev's home, pooja preparations are taking place. Sonakshi pleads god to save her father and solve the Family's problems. Ishwari takes care of the children while Golu misses his father. Ishwari and Sonakshi console Radha and will say that everything will be sorted out soon. The pooja begins while Dev and Sonakshi is working hard to solve the issues. Sanjana steals Dev's mobile. They both come back home and says that soon Vicky will get bail. Everyone sighs in relief while Ishwari asks them to go and change. They both goes and change when kids come to them. They are about to take a selfie when they spot Golu standing watching them. They joins him too and clicks a selfie. They all complete pooja when Sonakshi gets a call saying that Vicky got bail but it was not because of them.
Vicky comes home and everyone gets elated seeing him. They asks who got him bail and Sanjana says she. She says that she found the file which proved Vicky innocent and recalls blaming in front of office that it was Sujhi who hid the file. Everyone gets shocked hearing it. Sanjana kies that she heard Sujhi speaking on phone with someone to ruin Ishwari company's image by framing Vicky.
Sonakshi couldn't believe so does Dev. Everyone will thank Sanjana while Dev will call Sukhi but his number will not be reachable. Sanjana diverts the mind to Vicky and Radha and Elena hugs and thanks her. Radha puts Tilak on her saying that it's her who deserves it first. Sonakshi watches upset while Dev and Ishwari are confused. They gets shocked when Radha calls her their family. Sanjana looks smirking at Sonakshi and recalls her words that she don't deserve a family.
Precap : Radha will ask Ishwari to let Sanjana stay in the house ad she's Suhana's maternal aunt. Suhana hugs her while Sonakshi, Dev and Ishwari will get shocked.
Click to read
Kuch Rang Pyaar Ke Aise Bhi 20th October 2021 Written Update: