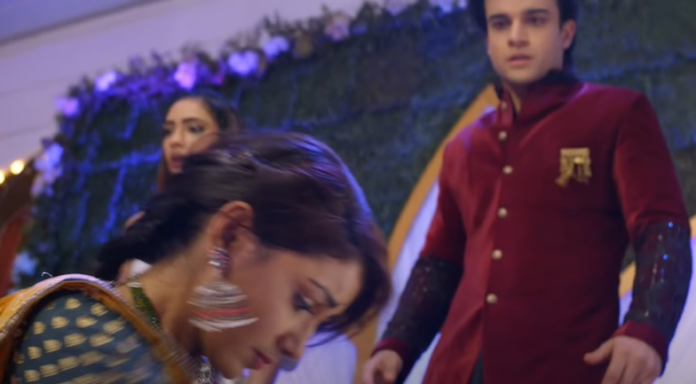 KumKum Bhagya Upcoming Story, Spoilers, Latest Gossip , Future Story, Latest News and Upcoming Twist on Justshowbiz.net
Episode starts with Ranbir saves Prachi on time. Prachi thanks him and goes to get coffee than he gets call from Rhea. Prachi gives him coffee and about to leave asking him to attend Rhea call. Ranbir says stay here because I may get bored. Prachi asks why can't you talk with her because she is your fiancée. Ranbir says I will talk when I feel to talk. Prachi says you're not doing it that's why I'm telling you and she goes aside. Ranbir attends her video call and talks with her in romantic way. Rhea feels happy and tells him that Dad is fine and he took Mom's name first. Prachi feels happy. Call gets disconnected because of network. Ranbir hugs Prachi in happiness but she breaks the hug by throwing him.
Pragya tells to Saritha that she felt that Abhi called her. Saritha consoles her saying it's your illusion and how can he call you when his condition is not good. Pragya says maybe he got fine, let me go so I can check what's happening at his place. Saritha says if he got fine than he will come here, I won't let you go anywhere. Pragya tells her that Abhi will come to take her than Abhi knocks the calling bell, Pragya opens the door and feels happy seeing Abhi is fine and regained his memory. Abhi happily lifts her with his hug than he wipes her tears and asks her to smile. Pragya tells him she is happy. Abhi asks her to pack her things so they can go to their home. Pragya looks shocked. Abhi asks if she don't want to come with him?
Prachi closes the windows. Ranbir gives kerchief to clean rain drops from her hand and face. Prachi returns his kerchief after cleaning her face and about to leave than Ranbir asks why you pushed me?am I that bad? Remember that I don't have any interest in you and you're the one who make me believe that you loved me. Prachi asks if he stopped her to discuss these things. Ranbir says no, I stopped you because of the weather, I hugged you in excitement and this mistake won't happen again and how can you hide your love for me in your eyes? Prachi says their is nothing like that. Ranbir says if you're speaking truth than where is your Parth. Prachi says he don't have time and I found another rich guy. Ranbir says you're lying in great way but I can sense the truth. Prachi calls Vindya aunty and tells her that she likes the USA guy proposal which she sent to her. Ranbir looks on. Prachi leaves after saying I did it, hope you're happy and believe my words after seeing my wedding card.
Abhi meets Saritha and asks her how's she. Saritha asks if he really regain his memory. Abhi says yes and than tells her Pragya is the one who treated him than he asks Saritha permission to take Pragya with him. Saritha says some people from your home may hurt Pragya and Prachi which I can't bear. Pragya says we can stay here but Rhea can't adjust here and I want us to stay like a happy family without any fear. Abhi says I get it and than he asks Saritha for one night time to set everything and he tells them that tomorrow he will take Pragya with him. Pragya feels happy. Saritha says Tanu is at your place and tells him how Aliya planned his marriage with Tanu than she tells him to arrange for Gruhapravesh. Abhi leaves saying he will clean the whole house. Pragya happily hugs Saritha ji.
Ranbir stops Prachi and says it's stupidity if you accept anyone seeing their photo. Prachi says it's my life and my choice , who are you to question me. Ranbir says I'm your boss. Prachi says it's your Dad's company not yours. Ranbir says I know you're planning to take revenge from me because I'm going to marry Rhea. Prachi tells him he is not important to her. Ranbir asks when she is planning to marry. Prachi says it's her wish. Ranbir asks her to marry before his marriage if she is really moved on from their love. Prachi accepts his condition. Ranbir says go and marry but you can never get person like me and I got a person who loves me than he wipes his tears. Prachi asks if something fell in his eyes. Ranbir tells her she can never see it and than he attends Rhea video call. Rhea asks him to wash his face. Ranbir thinks he is tired to pretend that he don't love Prachi anymore and he cuts the call. Prachi says you're correct you got great girl who loves you but remember even I will get the guy who loves me immensely and she leaves from that place.
Episode ends.