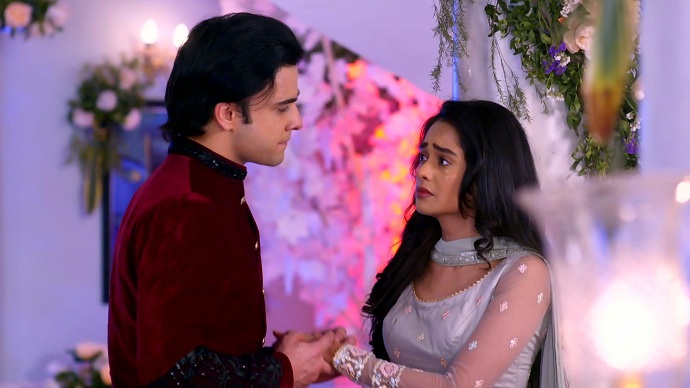 Kumkum Bhagya Upcoming Story, Spoilers, Latest Gossip , Future Story, Latest News and Upcoming Twist on Justshowbiz.net
The episode starts with Ranbir and Akshay waiting for Prachi. They smile seeing each other. Prachi comes out of Laali's house. Ranbir stares at Prachi. Akshay asks him why Prachi is staring at him. Ranbir says she may be seeing to give me a lecture and I came here for Khushi's happiness otherwise I won't. Prachi comes there. Ranbir asks Prachi 'what she said to Laali'. Prachi says I talked to Laali and I guess she won't call Balbir who raised his hand at Khushi here anytime soon.
Akshay asks if he slapped Khushi. Ranbir says yes that's why I fought with him. Akshay says he may have done the same with Balbir. Prachi stops them and says to them about the contract she gave to Laali. Ranbir asks why you trust Laali yar. Prachi asks him to not call her yar. She says she feels it works and says she will drop him as Khushi asked her to drop him. Ranbir refuses and leaves in a cab. Akshay tells bye to Prachi and leaves.
On the way, Ranbir and Akshay think about Prachi. Akshay returns home. Ashok asks if he is fine. Akshay says he is fine and tells him how Khushi cleared his doubt. Ashok asks why Prachi went to help Ranbir. Akshay says it might be because of Khushi. He says he needs to meet Prachi in dreams and goes to sleep. Ashok prays to god to never break his son's heart.
Staff congratulates Ranbir for getting a big project. Staff asks when they are shifting to the new office. Ranbir asks why new office. The staff member says they need more manpower and investment. Ranbir checks it and says he will check on it. He thinks to make the project successful to make his family happy. Peon drops Coffee on Akshay. Akshay scolds him. Ward boy goes to bring tissues for him. Ranbir on call tells his friend that he needs more money for his project.
Akshay hears it. He goes to Ranbir and offers to help him. Ranbir says I do t want to exploit our friendship so let's become partners. Akshay says it's a deal and tells him that he will take care finances. Ranbir thanks him for ending his tension. Akshay asks him for a party. Ranbir says he will give him.
In the temple, Pallavi distributes money to beggars. Prachi comes to the same temple. She asks Pandit to do the puja on Ranbir name as it's his birthday and asks him to distribute money and prasad to the poor. Prachi sees Pallavi and leaves from there. Pandit comes there and says she left without telling gothra of Ranbir. Pallavi comes to the Pandit and says she is Ranbir's mother. Pallavi says she will tell him Ranbir's Gothram. The Pandit agrees.
Prachi comes to the office and recalls Pallavi's words. Akshay comes and shares the good news with Prachi that he is opening a new company on his name and he is collaborating with Ranbir's company. Akshay says from now on they are partners. Prachi hearing Ranbir's name and leaves from there.
Akshay also shares the good news with his father Ashok that he started a new company and he is collaborating with Ranbir's company. Ashok praises Akshay and asks him for a party. Akshay comments on it.
Pallavi and Daljeet make preparations for Ranbir's birthday. Ranbir seeing the decoration thinks it is Pallavi's birthday and wishes her happy birthday. Pallavi says to Ranbir it is not her birthday. Ranbir thinks it is Daljeet and wishes her happy birthday. Daljeet also says it is not her birthday. Ranbir asks them whose birthday is it? Pallavi says it is his birthday. Ranbir feels stupid as he forgot his own birthday. Pallavi asks Ranbir to get ready. Ranbir agrees. Ranbir thinks after Prachi left he forgets everything about him.
Episode ends.