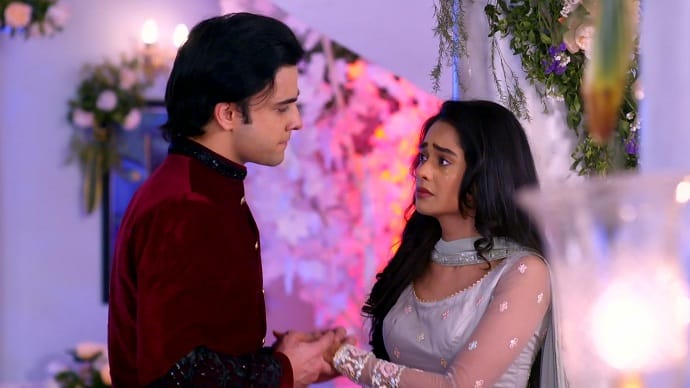 Kumkum Bhagya Upcoming Story, Spoilers, Latest Gossip , Future Story, Latest News and Upcoming Twist on Justshowbiz.net
The episode starts with Prachi asking Priya to check the emails. Priya sees Akshay bending down on his knees. Phone rings. Prachi turns. Akshay hides the ring. Prachi asks what he's doing down. Akshay lies to her that he bends to take the phone and leaves taking it. Akshay attends to his father's call and asks him why he is calling him continuously. Ashok says you're not updating me so I'm calling you. Akshay says I'm about to propose to her but your call disturbed me. Ashok says you're nervous and don't put blame on me so bring my daughter in law home and propose to her. He says I'm coming there. Akshay asks him to not come but Ashok doesn't listen to him. Priya admires Akshay.
Pallavi comes to the room. She asks Vikram and Daljeet why they called her to the room. Vikram and Daljeet tell her again that Khushi is looking like Ranbir. Pallavi says you guys want Khushi to stay with us that's why you guys are searching for Ranbir in Khushi. She says they can call Khushi as Panchi for some time. A servant comes there and asks them to come to the party to hear an important announcement.
Akshay calls Ranbir. He takes Ranbir in front of the media. He says he is giving a 25lakh advance cheque to Ranbir. He asks Prachi to give the cheque to Ranbir and says in his view they are the same. Akshay asks Prachi to give him. Prachi gives the cheque to Ranbir. Everyone congratulates Ranbir. Prachi congratulates Ranbir. She says you deserve it and I'm feeling proud of you. Akshay says I knew it would be proud. Ranbir thinks don't let him know that it's for me otherwise Akshay will be hurt and it's enough as we know it. Prachi leaves from there.
Prachi thinks about why she is unable to control herself in front of Ranbir. She asks herself why it's happening. Ranbir comes there and says you're still linked to me and care for me. Both are lost in each other. Daljeet and Pallavi see them. Daljeet asks Pallavi to stop Prachi from getting closer to Ranbir. Pallavi asks how she is changed and going against Prachi. Daljeet says Rhea is changed and reminds her how Rhea saved her risking her life. Pallavi says she can never forget it.
Prachi says to Ranbir that she doesn't care for him. Ranbir asks why she said she is proud of him. Prachi says she said generally. Ranbir says your tears are not normal. He asks how is she. Prachi says you're asking lately. She says she never wants to meet him. Ranbir says I want to meet you, touch you and feel you but I was unaware that Prachi is changed. Prachi says you're correct and currently Prachi follows her brain, not her heart. Ranbir says wish he can do it too.
Vikram goes to Pallavi and Daljeet. He asks what's happening. Daljeet says Prachi and Ranbir are talking to each other. She asks Pallavi if she didn't remember her words. Pallavi recalls how she asked Ranbir to marry Rhea seeing Rhea in a hospital bed. Ranbir gives his word to Pallavi that he will make Rhea happy who saved her life. Pallavi asks him to swear on her. Ranbir swears on his mom and says he will marry Rhea and gives her new life. Rhea gets tears hearing it. Pallavi says she didn't forget anything. She says let's see everything from a fresh view. Dida says feelings will never change and Prachi's chapter ended in Ranbir's life and Rhea's ideal for Ranbir and he will have a fresh start with her.
Episode ends.