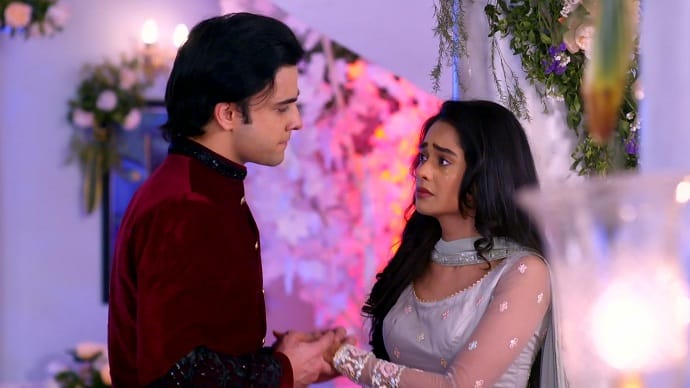 Kumkum Bhagya Upcoming Story, Spoilers, Latest Gossip , Future Story, Latest News and Upcoming Twist on Justshowbiz.net
The episode starts with Prachi doing first aid to Akshay while scolding him. Akshay asks if she scolded Ranbir in the same way. Prachi says why will I scold him as I don't have a right. She says she scolded Ranbir lightly at the station while doing his first aid. Prachi says you're really a kid and Khushi is more understanding than you. Ranbir comes there and hears their conversation. Akshay asks Prachi if she scolds everyone or if he is special. Prachi says I won't scold everyone and I will care about people who are related to me. Akshay says you mean you have a right on me. Prachi says your dad trusts me that gave me a right. Ranbir feels jealous. He thinks why Prachi is taking care of Akshay alone? Priya comes out from the restroom. Prachi asks Priya to do the bandage on Akshay. Priya agrees. Ranbir thinks he is thinking wrongly and reminds him that Akshay loves Priya. Priya smiles seeing Akshay recalling how he tried to propose to Prachi. Ranbir misunderstands that Priya loves Akshay too.
Ranbir hides from Prachi. While leaving Prachi's saree pallu touches Ranbir's hand. Ranbir enters his room and thinks he can't feel it. Aryan enters Ranbir's room and asks what happened to him. Ranbir says I felt jealous when Prachi touched Akshay's hand and I don't have any feelings for her but still don't know why I feel it. Vikram comes there. Ranbir signs Aryan to stay calm. Vikram says to Ranbir that he can understand his feelings and asks him to have control over his emotions. Ranbir says Prachi did a mistake by hiding from me that she is alive and still im behaving normally with her and feeling jealous. Akshay comes there and asks if he disturbed them. Vikram says no. Akshay asks Ranbir to come with him as it's his proposal time. Ranbir goes with Akshay. Vikram feels confused by Ranbir's behavior.
Ranbir encourages Akshay to propose to his girl and gives him a pen drive. Akshay thanks him and leaves. Vikram goes to Ranbir and asks if he is fine. Ranbir says he is fine. Vikram feels confused. Daljeet asks Ranbir if he is fine. Ranbir says he is fine. He goes to help Akshay. He asks Dj to play a romantic song and he asks Akshay to implement their plan and gives him a rose. Akshay asks him to play the recording when he gives the rose to his love. Ranbir agrees. Ranbir brings Priya to the dance floor and signs Akshay. Akshay feels confused and he brings Prachi to the dance floor. They start dancing. Ranbir feels confused. Everyone claps for them. Ranbir asks Akshay to propose to his girl.
Akshay sits on his knees in front of Prachi. Ranbir asks what's he doing. Akshay signs him to not disturb. A video recording of Akshay's confession starts playing in the background and Ranbir gets shocked hearing will you marry me Prachi Arora. Prachi stands shocked. Rhea and the others feel happy. Ranbir realises Akshay loves Prachi and he misunderstood the situation. Akshay tells Prachi how much he loves her. He says he will wait until she says yes to him and he won't eat until then. Prachi asks Akshay to come inside and tries to take him. Badi Dadi stops them and says to Akshay that she doesn't know if he becomes thin or not but she knows he becomes a slave of Prachi. Akshay smiles.
Episode ends.