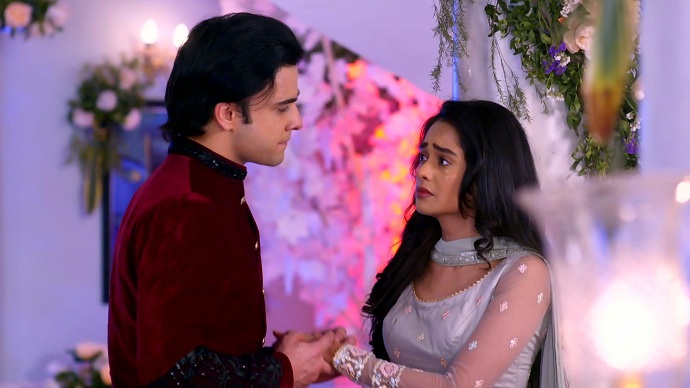 Kumkum Bhagya Upcoming Story, Spoilers, Latest Gossip , Future Story, Latest News and Upcoming Twist on Justshowbiz.net
The episode starts with Ranbir and Kaya coming to hotel Orchid. Megha welcomes Kaya. Kaya asks Megha what is her room No? Megha says it room no 304 right opposite room no 305( Prachi's room.) Kaya sees that Ranbir is lost again and asks why does get lost for every two minutes? Ranbir stays silent. Kaya asks Ranbir to come. Ranbir agrees. Prachi goes to room No 305. Kaya goes to room No 304. The bell boy says to Kaya that this is the best room in their hotel and and from the window they can see the mountain and from room No 305 they can see the river. Priya says to Prachi that they can see the river from the window. Prachi says that's why she took this room. Kaya asks Ranbir if she wants to ask her anything?
Ranbir says he doesn't want to ask her anything. Kaya asks Ranbir if he doesn't want to know why is she staying in a hotel as she has her own home in this city. Ranbir says he doesn't want to know. Kaya starts talking about destiny and says his destiny might have brought her hear. Priya also talks about destiny with Prachi and says her destiny might have brought her here to meet someone special. Prachi says there is nothing like that. Ranbir also says he doesn't believe in destiny. Ranbir gives money to the bell boy and sends him away. Kaya asks Ranbir why is he staring at her in the hotel lobby? Ranbir says he is looking at the people who are staring at her. Kaya says they are looking at her as they couldn't help it. Ranbir comments on it.
Ranbir gets a call from Aryan. Ranbir says he will come in a minute. Kaya says she needs to do a few signatures and her father told her that he will know where she needs to sign? Ranbir asks Kaya to open the documents. Kaya opens the documents. Ranbir tells Kaya where to sign the papers. Prachi says to Priya that she chose this place and not destiny. Prachi says life is all about the choices they make. Prachi gets a call from Minty aunty. Prachi asks Minty aunty how is she? Minty says she is fine and asks her to come to the reception. Prachi agrees and comes to the reception. Prachi greets Minty and asks how is she ? Minty says she is fine and asks Prachi about her husband? Prachi stays silent. Minty seeing this diverts the topic and asks if she identified Ganesh. Prachi agrees and talks about Ganesh and Megha. Priya asks Prachi about what is she going to eat? Prachi says she is going to eat whatever Minty serves her.
Minty agrees and asks Prachi to come to the dining hall. Prachi agrees. Ranbir while talking on the phone feels Prachi is nearby and turns around and sees Prachi's back and she is wearing a scarf. Ranbir goes after Prachi. Prachi feels that there is not that much cold and gives the scarf to Priya. Priya wears the scarf. Ranbir takes Prachi's name and calls Priya. Priya identifies Ranbir as she took the luggage from him. Ranbir apologises to Priya as he misidentified her and makes up a reason and leaves from there. Ranbir thinks something is wrong with him.
Prachi feels Ranbir is near her and follows her gut. Prachi sees Ranbir talking on the phone and recalls her moments with Ranbir. Prachi calls Ranbir. Ranbir seeing Prachi. Ranbir and Prachi run to each other and hug each other. Ranbir says to Prachi that he knew she is alive as how can she die when he is alive. Ranbir asks Prachi why did she take this long to come back to him as she knows that he is waiting for her. Ranbir and Prachi hug each other.
Episode ends.