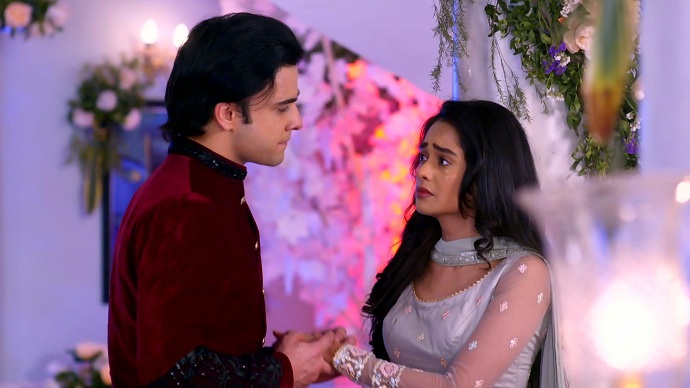 Kumkum Bhagya Upcoming Story, Spoilers, Latest Gossip , Future Story, Latest News and Upcoming Twist on Justshowbiz.net
The episode starts with Prachi coming out of her imagination. She turns to the other side seeing Ranbir and covers herself with a shawl. Ranbir sees the shawl and assumes it's Priya. He walks crossing Prachi. His heartbeat gets increases. Prachi leaves from there in tears. Ranbir sees she is leaving and thinks if she is crying. On another side, Prachi collides with Kaya. She apologizes to her and leaves. Kaya sees Prachi and thinks her story might be the same as others and she may be got cheated in her lover's hand. Prachi cries vigorously recalling her moments with Ranbir.
Ranbir collides with a girl. He apologizes to her. She smiles seeing him. Ranbir feels confused. The client comes out and thanks Ranbir for bringing his daughter bearing her temperament. Ranbir says he can't bear Kaya's attitude. The client says that's why I'm thanking you. He receives Malhotra's call. He thanks Malhotra for giving leave to Ranbir and requests him to give one more leave. Malhotra says he doesn't have problem and asks him to take Ranbir's opinion. Client agrees. He asks Ranbir to manage Kaya for 2 more days. Ranbir denies and asks him to handle his daughter by himself. Client says she is leaving tomorrow so please be with her and you may understand my pain if you have a daughter and tells him that Kaya doesnt talk to him. Ranbir promises to be Kaya until she leaves. Client feels happy and leaves.
Prachi returns to room and cries seeing the moon. She questions the moon why she is feeling same feeling again even after year's seeing Ranbir. Prachi thinks to herself why is this happening to herself and says she knew that this would happen. She thinks to herself she doesn't know what will she do when she faces Ranbir. Prachi prays to Moon to make sure that Ranbir doesn't see her.
Ranbir thinks he doesn't know why he is feeling Prachi is close to him. Aryan comes and tries to explain to Ranbir that Prachi is dead. Ranbir asks Aryan not to talk like that as he can feel Prachi is very near to him. Ranbir says she will die after he dies and says right now she is alive. Prachi thinks Ranbir also might be at the airport that's why she felt him. Pallavi stops Aryan and Ranbir from arguing. Pallavi says they have to stay at home tomorrow. Ranbir says he has an important meeting. Pallavi says to Aryan that he has to stay at home and says they selected a girl for him and they are coming tomorrow at 11 am. Aryan asks Pallavi why did they set a match for him. Pallavi says it is due time that he got married. Ranbir teases Aryan and says he will make time and come tomorrow.
Prachi and Kaya look at each other. Prachi says to Kaya that all the tables are full and says she can sit here if she wants. Kaya takes her plate of tiffin and goes to Prachi. Kaya says they met before and asks Prachi why is she crying at that time? Prachi stays silent. Ranbir rings Kaya's door bell and she doesn't open the door. Ranbir calls Kaya and asks her why is she not opening the door? Kaya says she is not in her room and asks him to come downstairs so that they can eat tiffin. Kaya tells Prachi about Ranbir as he is stubborn one. Ranbir calls Kaya and says he met floor manager and he is going to inside her room and asks Kaya to come after eating the food. Kaya agrees. Kaya says to Prachi it seems that fate doesn't want both of you to meet. Kaya says to Prachi that Ranbir is arrogant. Prachi comments on it.
Episode ends.