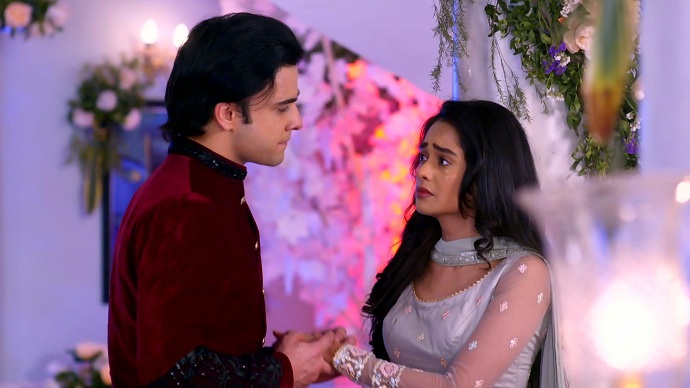 KumKum Bhagya Spoilers, Upcoming Story, Latest Gossip , Future Story, Latest News and Upcoming Twist on Justshowbiz.net
The episode starts with Wendy asking Daljeet why she is looking so dull. Dida says you're leaving and I'm tensed thinking about how can I fight with Alia and Rhea without your support. Wendy suggests her to oust Alia and Rhea then there will be no problem between Prachi and Ranbir. Pallavi hears it. She enters inside by clapping ger inside. She says Rhea didn't force Prachi to become pregnant with Sid's baby then why do you want Rhea to leave the house? Wendy says she didn't mean it. Pallavi asks her to think before talking. Wendy says you failed as mother in law and everything is happening because of you. Pallavi asks her to tell directly what she wants to say. Wendy says instead of holding hands of Prachi, you kept holding your ego, you didn't stop her when she is leaving the house and the situation turned chaotic. Pallavi says it's time fir your fight, goodbye. Wendy thanks ger. Prachi leaves her. Wendy asks Daljeet to fight for Prachi as she needs you.
Madhurima asks Prachi, who is she? Prachi says she came for a doctor as her friend is injured. Rhea realizes it's Prachi's voice. She feels she may get exposed if Prachi catches her. She hides her face. Madhurima tells Prachi that she is a gynecologist. Prachi apologises to her and leaves the cabin. Rhea tells Madhurima that Prachi is her sister.
Ranbir meets Aryan in the office and vents his frustration. Ranbir notices Shahana is calling Aryan. Ranbir says you saved her number as Shahana which means you love her. He attends the call and says I love you Shahana. Shahana scolds him. Aryan tells Ranbir that there is nothing between them. Ranbir tells Shahana that it's a prank done by him. Shahana says she called Aryan to know about Mr. Malhotra and she is in the hospital with Prachi. Ranbir leaves hearing Prachi's name. Aryan takes the call and asks Shahana what happened. Shahana says Sid is injured but doctors are not available. Aryan tells them he will call his friend.
Madhurima asks Rhea if Prachi is her sister. Rhea agrees. Rhea goes to try the fake baby belly. She comes out trying it and asks Madhurima why is she looking out. Madhurima says she feels Prachi is suspecting her. Rhea says her fake stomach will make her get exposed. She asks ger to give her a small baby bump. Madhurima asks her to sit and she goes to arrange the baby belly. Rhea calls Alia but it's unreasonable.
Ranbir enquires the Receptionist about his wife. The receptionist tells him his wife is with gynecologist Madhurima and her cabin is on the second floor. Ranbir goes to meet his wife. Aryan enters the hospital to stop Ranbir and learns Ranbir went to Madhurima cabin. Ranbir enters the second floor. He sees Prachi and asks if she is fine. Shahana tells him that she didn't tell all the matters and they didn't come for Prachi's checkup. Ranbir asks them to stop lying. The receptionsit comes there and informs Ranbir that his wife Rhea is with Madhurima on the first floor. Prachi tells The receptionist that misunderstanding happened with them. She asks Ranbir if he came for Rhea. Ranbir tells he came for Prachi. Shahana takes Prachi aside and asks her to go to Rhea's room to find the actual reason for Rhea ordering papaya. Prachi makes Ranbir agree to check Rhea.
Rhea complains to Madurima that her fake bellies are not working. Madhurima says I don't make them so stop complaining. Rhea says you want to expose me. She asks if she is united with Prachi and working for Prachi taking money. Rhea warns Madhurima saying she won't leave her if she backstabs her. Madhurima says I'm your true friend and you have to thank me but here you're insulting me. Rhea says to Madhurima that she helped her for money. Madhurima warns her to never show her face otherwise she will expose her infront of her family members. She asks her to consult another doctor. Rhea asks her to tell what she will do. Prachi and Ranbir enter the cabin. Ranbir asks what's happening. Rhea stands shocked.
Episode ends.