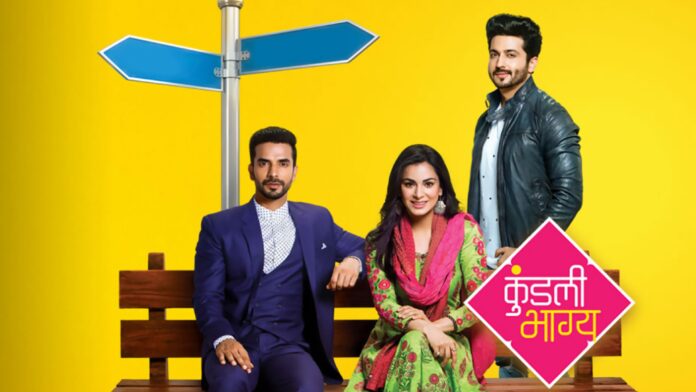 Kundali Bhagya Upcoming Story, Spoilers, Latest Gossip, Future Story, Latest News and Upcoming Twist, on Justhowbiz.net
The episode begins with Sameer informs Sarla about Preeta's kidnap who was sitting outside of the Luthra house. She shocks hearing him. He assures her saying Preeta escaped from there with Sristy and Janki and they are going to reach Luthra house soon. That time Preeta, Sristy and Janki come there. Janki gets worried seeing their injuries and asks what happened to them.
Preeta says Sarla need not to worry about them because they are fine and takes Mahira's name and explains her everything. Karan dances with Mahira half heart heartedly but she enjoys it. She says she is doing everything for his family because they are like her family too. He says she is his childhood friend and that's the only relationship she has with him. She thinks she loves him so much but he still think about Preeta only. Ramona tells Luthra's that her daughter doing all this for them.
Sherlyn thinks Luthra's has to believe that only Mahira can save them, that's why she planned all this and smiles seeing Karan and Mahira dancing together. Rishab notices Sherlyn and gets disappointed. Krithika asks him what happened to him. He says Sherlyn didn't changed yet, she is interfering between Karan and Preeta's life still and also supporting Mahira for wrong things. She says Sherlyn could be wrong but it's not necessary that Preeta is right always and says she is not understanding why he always ignores Preeta's fault.
Mahira says Karan should not take Preeta's side. When he asked why, she says Preeta is not good for Luthra's and she always hurt then then how can he love her. He says whom he loves and whom he hates isn't Mahira's business. He says she is dancing with him on behalf on Preeta so she should assume herself as Preeta. Sarla praises Preeta for her bravery and says every mother deserves a daughter like her. Sameer says everyone thought Preeta eloped with Prithvi.
Sarla tells her about Mahira's fake letter and says she didn't believed anything because she knows she was in danger. She says what all Mahira did in front of the guests and says such a cunning girl she is. Preeta says she won't let her destroy Luthra's respect in front of others because it's her family. Sarla tells her to give punishment for whatever Mahira did and make sure she confesses her crime in front of everyone.
Preeta says she promised Rakhi that nothing will happen in reception but because of Mahira already so much happened so she has handle that first. She says she will show everyone who is Luthra's daughter in law and will handle Mahira in her own way. Janki, Sarla enters Luthra house. Sameer takes one juice glass from waiter. Sristy smirks at him.
Sherlyn takes Rishab to dance floor and dances with him. Sanjana tells Ramona that till Arora's was missing but suddenly everyone is here. Janki takes the Police inspector from there saying she wants to talk to her. Sameer pours the juice on the floor where Mahira was dancing and she falls down. She removes her veil and asks Karan why he dropped her. He says he didn't. She sees Sristy smiling and realises it's done by her.
Sristy and Sameer go towards the guest room according to Preeta's plan. And Mahira follows them. Sherlyn calls Prithvi and scolds him for planning to many Preeta and informs him that now Preeta reached Luthra house but she won't forgive him. He apologize to her. She says she feels sad for herself because she loves him.
Episode ends.