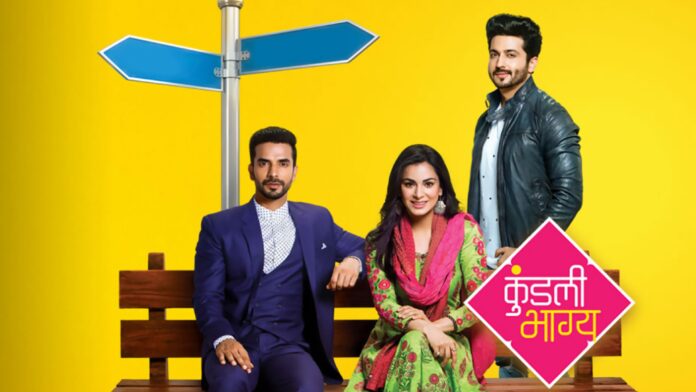 Kundali Bhagya Upcoming Story, Spoilers, Latest Gossip, Future Story, Latest News and Upcoming Twist, on Justhowbiz.net
Episode begins with Police takes Sarla with them. Sherlyn follows them and tells the Police inspector to not leave Sarla saying she tried to kill her and her child so she should get severe punishment for that. Sarla says Sherlyn knows that she can't even think to harm her or her child but Sherlyn wants to harm Preeta and asks why she is doing this.
 Sherlyn tells her to stay silent saying she tried to harm her child but her child is safe. Janki apologize to Police inspector for stopping her and pleads her to leave Sarla saying she is innocent and she can't even think to harm anyone. Police inspector says there is F.I.R against Sarla so she has to arrest her no matter what and she can't help her in this and suggests her to hire Lawyer for Sarla's bail.
Sherlyn tells to Sarla that Police helped Preeta to stay in Luthra house and she is tolerating her everyday there and today she took her revenge by arresting Sarla, now Preeta will come to rescue her mother and it's special day for her.
She says they spoiled her plan so today she will break her daughter's fasting. She says Preeta's health is not stable already and now she has to fight for her mother and she doesn't have enough strength to do that so it's going to be so much fun to watch all upcoming drama. Later Sherlyn mocks Janki and leaves from there.
Mahira was calling Sherlyn and says it's still not reachable. She thinks she is really happy seeing Kareena and Dadi's worried face and they should regret for not listening to Sherlyn earlier and she knows that Sherlyn on her way after finishing her work but she is not going to inform that to anyone. Sherlyn comes there.
Kareena asks where she went without informing anyone and says she was about to call Sanjana also. Sherlyn acts like she is about to faint. Mahira takes her towards the bed and tells them to bring energy drink or lemonade for Sherlyn and locks the door from inside. She asks what happened there. Sherlyn says Police arrested Sarla according to their plan and they laughs.
 Mahira says this is real blast and smiles. Sherlyn says Preeta will become mad hearing this news and she is already weak and they are going to witness emotional drama of her. Sherlyn says nothing should happen to her child. Mahira assures her saying nothing will happen to her child. Sherlyn says her child is strong so nothing will happen.
Preeta says she just has headache other than that she is really fine now. Karan says she is lying to them to continue her fasting . She says Sristy will do head massage for her. Sameer tells Karan that Preeta cares for him so much and she is not selfish.
Sristy was massaging Preeta's head but Karan stops her and he starts to do head massage for Preeta. Preeta shocks seeing him there instead of Sristy. Sameer tells Sristy that he can see love between them. Janki reaches Luthra house and informs about Sarla's arrest.
Episode ends.