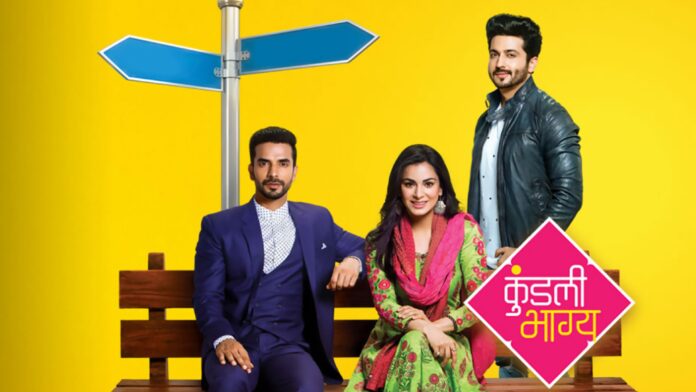 Kundali Bhagya Upcoming Story, Spoilers, Latest Gossip, Future Story, Latest News and Upcoming Twist, on Justhowbiz.net
Episode begins with Preeta asks does Karan wants anything. He nods at her. She says she knows that he wants food that's why he is keep looking at her plate and says he can eat from her plate. He says he already ate and he was looking at the plate because he wanted to feed her and tells her to open her mouth.
She asks is he sure because what if he eats it when she opens her mouth. He says she is his wife and he liked the fact that she kept fasting for him and feeds her. She asks does he thinks she did something first time for him. He says she should continue doing that because he likes it. She recalls how Sarla blessed her saying her bond will get more stronger with Karan.
He feeds her (Sajna song plays in the background and bites his fingers by mistake. She apologize to him. He says she deliberately did this to get revenge on him. She says he is feeding her with so much love then why she will bite him deliberately. He says he brought Mahira to this house without her permission and he dropped her once and fell on the floor.
She laughs saying he misunderstood. She says if he feels that bad then he can bite her finger and shows her finger to him. He takes her hand and kisses it. She shocks realizing what he did. He says he won't hurt her and if anyone tried to hurt her then that person has to cross him to reach her. He promises her that he will protect her. She recalls their marriage.
After mixing poison Mahira says now no one can save Preeta. Rakhi comes there to take Preeta's sweet dish. Mahira says Preeta kept fasting for her Karan. Rakhi says today its proved that only wife can keep fasting for her husband.
Sherlyn asks Mahira about poison bottle. Mahira says she mixed whole poison in Preeta's sweet dish and shows the empty bottle to her. She says after eating the sweet dish Preeta will die and her chapter will be closed permanently and Karan may feel bad and she will get close to him in the name of consoling him.
And then he will accept her and will love her. She says she is excited to hear Preeta's death news. Sherlyn asks why didn't she talked to her about this plan and leaves from there angrily. Mahira wonders what happened to her suddenly.
Karan covers Preeta with shawl seeing she is shivering in cold. Rakhi comes there with sweet dish and feels embarrassed seeing Preeta and Karan's close moments. Rakhi apologize to Preeta for not knocking the door. Sherlyn comes there and pushes Rakhi and the plate falls from her hand. She says she felt dizzy and apologize to Rakhi.
Rakhi says she will prepare sweet dish again for Preeta. Mahira gets irked with Sherlyn and takes her from there. Mahira scolds Sherlyn for spoiling her plan and blames her. Sherlyn slaps Mahira saying she is responsible for all the failure.
Episode ends.