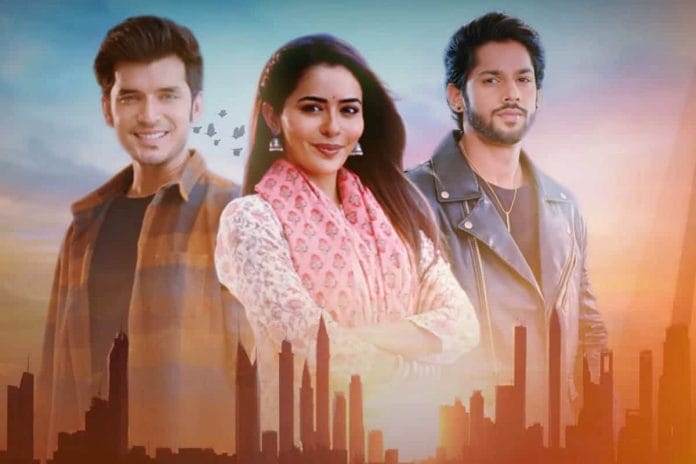 Kundali Bhagya Upcoming Story, Spoilers, Latest Gossip , Future Story, Latest News and Upcoming Twist on Justshowbiz.net
Episode begins with an intoxicated Rajveer says that there is no window and door in this room. Shanaya comes there. Rajveer tells her to not come inside because there is no window and door in this room. An intoxicated Shanaya says that she won't enter the room and leaves from there. Shaurya asks her that why she came out of the room. He tells her to return to the room. She tells him that, that room don't have a door so she will stuck there if she went inside then. He tells her that there is a door and he shows the door to her. She goes inside. He locks the door from outside.
On the other hand, Srishti tells herself that Rajveer is not picking the call. She decides to go to Luthra house and moves towards the door. Preeta tells Srishti to go after having food. Gurpreet takes Preeta inside. Srishti leaves from there.
Palki wonders that why she is feeling dizzy. She says that she ate prasad only. She realises that Shaurya mixed something in the prasad. She decides to find out Shaurya's plan.
Rishabh tells Karan that the latter did not understand anything so Kareena and Dadi will make him understand. Karan tells Rishabh that he did not understand anything because Rishabh explained him in twisted way. He says that Rishabh should not interfere because the latter made mistake. Dadi tells Karan to become Shaurya's friend.
Kareena asks Karan that why he is not understanding the simple thing. She tells him that she is Kritika's friend first, that's why Kritika trust her and share everything with her. Shaurya comes there and tells them that there is a surprise for them. Karan recalls Dadi's words. He screams that Shaurya planned a surprise for him. He says that he love surprises. He tells Shaurya that they are best friends. Elders goes downstairs. Sandy asks Shaurya that what happened to Karan. Shaurya tells him that Karan must be intoxicated.
Karan praises the screen. He says that he feel big blast will happen and he love his best friend Shaurya. Rishabh tells Karan that it looks fake. Karan tells him that he is really happy. Palki thinks that she has to talk to Shaurya about prasad. Sandy tells Karan that he never saw the latter like this and it looks like Karan is intoxicated. Rishabh scolds Sandy. He orders Sandy to say sorry to Karan. Karan tells Sandy that no need of that. VJ comes there. Shaurya takes VJ from there and gives a pendrive to him. He leaves from there. Palki follows him. Nidhi sees this. Shaurya thinks that Rajveer and Shanaya has no idea what's going to happen with them.
Rajveer asks Shanaya that where is the door if she entered the room through door then. Shanaya shows the mirror to him and tells him that, that's door. He tells her that, that's mirror. But she refuses to believe him. He tells her to stay away from Shaurya. She asks him to not say anything and leave.
Srishti picks Gurpreet's call and informs her that she is going to Luthra house. Gurpreet asks her that why the latter took Nidhi's words seriously. Srishti tells her that she can't take any risk.
Episode ends.