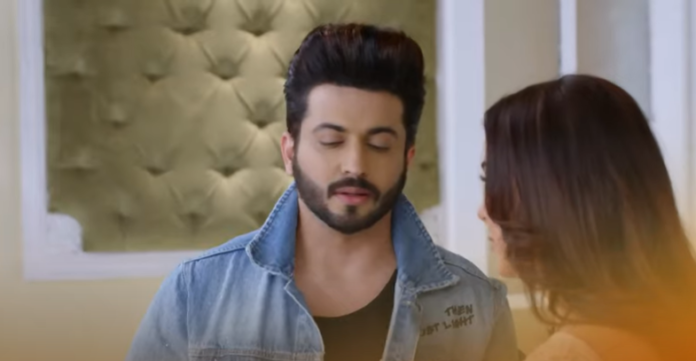 Kundali Bhagya Upcoming Story, Spoilers, Latest Gossip, Future Story, Latest News and Upcoming Twist, on Justhowbiz.net
The episode begins with Akshay waits for someone in the same mall where Krithika was shopping with Preeta. Preeta selects dress for Krithika. Akshay shocks seeing Krithika, Preeta there and hides from them before they sees him. Krithika goes to trial room. Akshay thinks he would have met Krithika now if he didn't lied to her already then but now he can't go in front of her. Akshay curses Ruchika for keep calling him. Krithika was taking four dress to trial room but staff stops her saying she can take only three dress to trial room and Krithika gives one dress to her.
Akshay was leaving but Preeta sees him in mirror when she turns around he is not there. She wonders where he went and assumes that he is here to surprise Krithika but he need not to hide from her because she won't spoil his surprise. Sristy comes there and asks Preeta about Krithika. Preeta gets surprised and asks what is she doing here and says Krithika is in trial room. Sristy says Krithika called her. Akshay buys the dress which was selected by Krithika.
Preeta sees that and thinks he is buying for Krithika but shocks seeing him hugging some girl and they leaves the shop. She wonders who was that girl and follows them. Sristy congratulates Krithika and says she will select better dress for her and asks her about bachelorette party. She says she will choose sexy outfit for her so she can wear that in her bachelorette party. Krithika thinks it would have been better if Akshay was also with her.
Ruchika holds Akshay's hand when she was about to fall. He tells her to not hold his hand and says Preeta already saw him in mall so they should be careful. She sees Preeta and informs him that Preeta following them. He tells her to walk alone. Preeta wonders why he is running away from her and says Krithika informed her that he is busy with business meeting and gets confused thinking what exactly happening here. She says it's about Krithika's life so she can't take any risk. Akshay gives that dress to Ruchika. Preeta sees them entering the hotel and gets worried. Akshay takes key from Receptionist.
Preeta tells Receptionist that she wants to meet Akshay and asks him to tell his room number. But Receptionist denies to give any information. Preeta realises that what kind of hotel that is and comes out. Akshay thanks Ruchika for understanding him. Preeta gets Krithika's call and lies to her saying she is with some friend. Krithika says Sristy is with her so she need not to worry about anything. Preeta sees Ruchika wearing the dress Akshay bought and follows her because following Akshay is waste. Akshay notices that Preeta approaching Ruchika. Preeta asks Ruchika about the dress.
Akshay meets Preeta and Ruchika leaves from there. He lies to her saying he is coming now only after finishing the meeting. She says just now she saw him with some girl. He says she would have misunderstood. Sherlyn comes there. Akshay tells her about Preeta's misunderstanding. Preeta asks Akshay to drop her but he makes excuses saying he can't drop her. Preeta reach home and sees how happy Krithika so decides to not tell anything about Akshay now.
Episode ends.