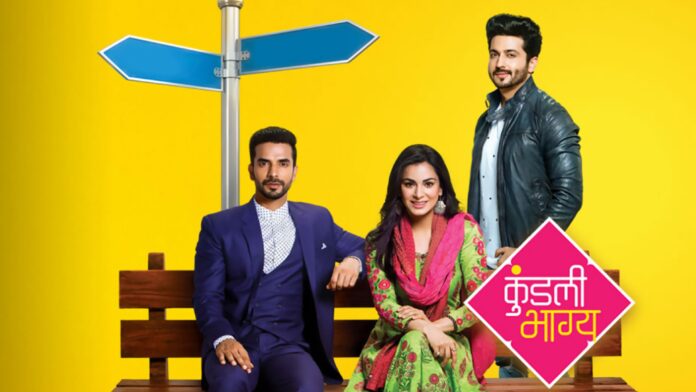 Kundali Bhagya 6th July 2020 Written Update On JustShowBiz.Net
Episode begins with Preeta shocks seeing someone kidnapping Rishab. She follows the kidnapper to save Rishab and thinks this day is really unlucky from the time Mahira came to her house. She recalls how she yelled at Mahira when Mahira tried to blackmail her saying everyone in luthra house will suspect Preeta only when they gets to know that Mahira is missing in the house. Sristy tries to convince Preeta to go to luthra house. But Preeta denies to listen her. For that Sristy says she is going to luthra house for sure and asks Preeta to accompany her.
Preeta says she won't help Sristy and says if anyone sees them there then they will think Preeta doesn't have any self-respect. She says Sarla always denies them to not go there but not listening her they always go there to help them but at end they gets only blames and insults. She says everything has limit if they went again then they will insult again nothing else will happen. Sristy apologize to Preeta and says luthra house is in danger because of Mahira if Karan marries Mahira then everything finished. Preeta says she have nothing to do with luthra's now and asks how can Sristy forget all the insults they faced.
Sristy says she didn't forget anything and asks Preeta to recall what Mahira confessed few minutes back. Preeta says no one in luthra house will believe them if they tells Mahira's truth because they thinks she pushed Mahesh from stairs. She says they will call police and will put one more blame on her. Sarla scolds Sristy and leaves from there. Preeta goes to her room saying she wants to take rest. Sristy tries to follow Preeta but Beeji stops her. Janki thinks Preeta is so innocent but luthra's never believed her and always insults her.
Karan recalls how Rishab took Preeta's side and thinks Preeta doesn't deserve his trust. Rishab comes there and says haldi ceremony going to begin. Karan asks him to not try to stop his and Mahira's marriage. Mahira overhears their conversation and thinks did Preeta told her truth to Rishab. She gets happy thinking Karan will marry her for sure and Rishab can't do anything.
Kareena asks Dadi to start to haldi function. Haldi bowl slips from Preeta's hand and she recalls how Karan put haldi on her and cries. Karan too recalls the same and thinks Preeta doesn't wants this marriage to happen but he will marry Mahira for sure. He promises to himself that from now he won't think about Preeta.
Sarla thinks when she can't think anything else other than Karan's haldi ceremony then how Preeta can stay calm. She says she knows Preeta very well she just smiles for others but dying inside. She says Sristy won't stay silent so she decides to stop her. She tells Sristy to buy vegetables from market.
Rakhi tells Mahesh that whenever she used to cry he was always there for her then why not now? She recalls their first meet and how he proposed her for marriage. She cries saying she needs him and she believes that Preeta didn't pushed him. She says Preeta respects him lot and thinks him as her father so she definitely didn't pushed him then who pushed him? She says Mahira blamed Preeta but her heart doesn't able to believe that if Preeta really pushed him then she will never forgive Preeta.
Rishab hears everything and consoles the crying Rakhi. He asks how she is thinking in both ways. Rakhi says she is not understanding anything, she don't know who is telling the truth and who is lying. Sherlyn hears that and gets irritated. She says she is tolerating everything for property then she decides to kill Rishab and thinks to take Prithvi's help. Prithvi thinks once Karan marries Mahira his way is clear to reach Preeta. Preeta too will get rid of her mangalsutra after Karan's marriage then he will marry her. Prithvi decides to ruin Rishab. (Episode ends).