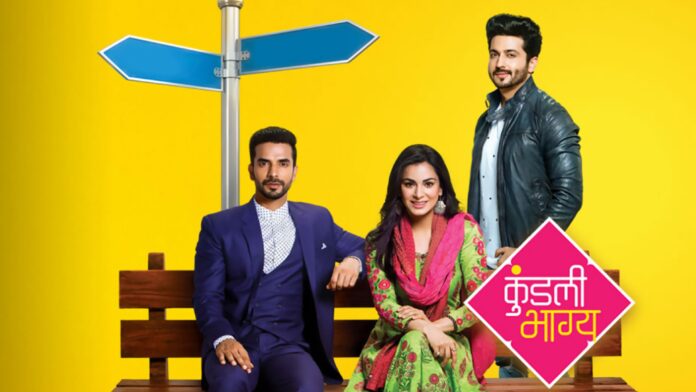 Kundali Bhagya Written Update 7th July 2020 On JustShowBiz.Net
Episode begins with Sherlyn decides to not take Prithvi's help thinking she can kill Rishab without his help and it will be more satisfying for her. She plans to taunt Rishab by this he will shout at her so she can execute her actual plan. She asks Rishab how she will look in that by showing one saree. He stays silent. She asks did she disturbed him and apologize to him. She asks him to get ready for his brother marriage. He asks her to not disturb him saying he is thinking about something. She says she knows that he wants to apologize to her. He asks why will he apologize to her. She says he took Preeta's side everytime going against her but now it's proved that Preeta is wrong and she is right. She says Preeta pushed Mahesh then why no one reported her in police station instead she is roaming outside freely. He asks why can't she think about anything else other than Preeta. He says Preeta did nothing wrong with Mahesh and asks her to not talk anything in this matter and tries to go away from there. She asks why he trusts Preeta so much. He says he doesn't want to talk anything in this matter and asks her to stop.
Kareena comes there. Seeing her Sherlyn acts like crying and hugs Kareena. Kareena shouts at Rishab for behaving like this with Sherlyn. Sherlyn says Rishab did nothing and she is happy that Kareena took her side. Rishab says he really did nothing and why Sherlyn crying. Kareena takes Sherlyn from there. Karan and Preeta cries recalling their moments with each other. Krithika says Rakhi called Rishab in her room because Sherlyn complained about him. Rishab gets surprised hearing that. Sameer says he will accompany him. Rishab says big drama will happen there and goes from there.
Rakhi says she is not understanding why Rishab behaving like this. Sherlyn's mother says it's not first time if they stopped Rishab before itself he would not have repeated the same mistake again. Rakhi says she will talk to Rishab. Rishab asks what happened that Sherlyn is crying like this. Sherlyn says he is talking with her like this way again. He says when he talked with her, he clearly said he doesn't wants to talk anything and left the room too but she only followed him. Rakhi says he is talking this way with Sherlyn in front of them then how he would have talked with her when they were alone. He asks how can she think he can misbehave with anyone. He says he explained Sherlyn calmly first but she didn't listen that's why he yelled at her.
Krithika takes Rishab's side and blames Sherlyn for this fight. Sherlyn's mother shouts at Krithika for talking against Sherlyn. Rakhi says Krithika can't take Rishab's side in this matter. Krithika says she knows Rishab is right that's why she is taking his side. Rishab says because of Sherlyn everyone misunderstood him. Kareena says she herself saw how he yelled at Sherlyn. Rakhi asks him to apologize to Sherlyn. He denies to apologize and leaves from there saying he have to buy gifts. Kareena and Rakhi praises Sherlyn for being a understanding daughter in law and wife.
Rishab thinks Preeta is really good person but everyone just misunderstood her. Mahira says she sended haldi ceremony pictures to Preeta but didn't get any reaction from her. Prithvi shouts at Sherlyn for not taking his calls. Sherlyn says some family drama was going on that's why she was not able to attend his call. He asks where is Rishab now. She says he is getting ready to go to buy gifts for Mahira's family. He gets happy after getting information about Rishab and smirks. (Episode ends).