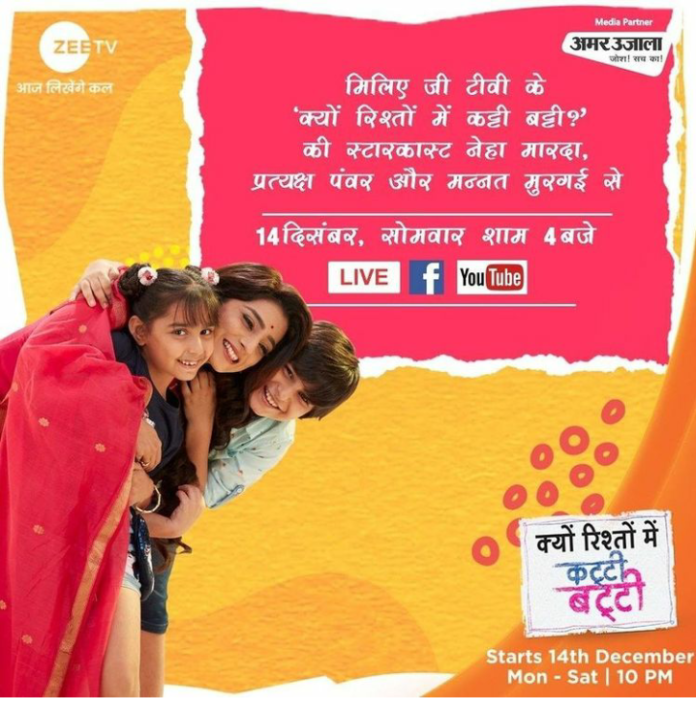 Kyun Rishton Mein Katti Batti Upcoming Story, Spoilers, Latest Gossip , Future Story, Latest News and Upcoming Twist on Justshowbiz.net
Episode starts with Kuldeep begging Shubhra to come back and confess in front of her that how much he have craved for his mother's love. He says that he always wanted to get her forgiveness but she never accepted him back, He gets emotional stating that even after his father's death he couldn't able to wipe his mother's tears.
He again requests her to stay back as he needs Shubhra's support at this point of time. He says that finally Chandrani have agreed to accept their relation and wants to meet them. Shubhra agrees to help him and states that she is doing this only for Chandrani.
He gets up and was about to hug her but she stops him. Rishi and Roli back hugs him making him collide with Shubhra. Kuldeep moves forward while Shubhra ask the kids to keep the secret safe of Chandrani being in their team. Rishi warns Roli to stay quite while she nods.
Madhura thinks about Shubhra's words that she is coming back to Pune. At that time Narayan comes there. She ask if she have right in this house? He looks confused and replies positively. She ask if she can sell something from this house? To which he says that if she is trying to help Shubhra with money? Madhura says that this time she will do everything to help her daughter while Narayan looks at her.
Kuldeep brings Shubhra and their kids inside the house. Chandrani gets excited seeing them but controls her emotions. She acts as if she is meeting them for the first time while Kuldeep smiles. Roli mingles with Chandrani and was about to reveal about their past incidence when Rishi stops her and changes the topic.
Rishi and Roli took blessing from Chandrani while she adores them. Kuldeep moves away from there while Rishi thanks Chandrani for coming here to help them. She caresses his head assuring that she will make everything fine.
Phirki comes there and gets stunned Seeing Shubhra with her kids. She drops the tray in shock while Chandrani scolds her for being careless. Kuldeep takes Chandrani away and glares at Phirki while she goes away from there hurridly.
Roli pinches Rishi while he runs to catch her. Chandrani sees Shubhra and passes a warm smile while Shubhra comes forward with teary eyes and takes blessings from her. Chandrani blesses her while Samaira looks at them from upstairs and grits her teeth being angry.
Samaira goes inside her room being furious and breaks the stuff. Phirki comes there and provokes her. Samaira says that she won't let Shubhra take all the credit for Kuldeep's success. She plans to meet Chandrani on her own as Kuldeep's love interest. She smirks thinking about her plan while Phirki smiles and follows Samaira.
Chandrani caresses Shubhra's hair and says what all she faces while staying away from Kuldeep and her. She says that she lost her husband and blamed everything on Shubhra like the typical mother-in-law. She laughs sarcastically with teary eyes and says that she should have accepted them long before. She joins her hands in front of Shubhra and apologises to her (Kabhi Khushi Kabhi Gham plays) Shubhra holds her hand and hugs her. Both gets emotional and smiles with happy tears.
Kuldeep adores their bond and then something strikes in his mind. He questions Chandrani that how she came to Mumbai as they weren't in touch? Chandrani gets shocked and stammers to answer. Rishi and Roli tries to help her.
Chandrani states that she went to his house in Pune and there Sanjana told her about Kuldeep being in Mumbai. She says that she came here in hope that if Kuldeep will accept her then she will stay with him orelse will return back to her house. Kuldeep hugs her saying that he always wanted to keep her with him. Chandrani takes both Kuldeep and Shubhra in her embrace and smiles.