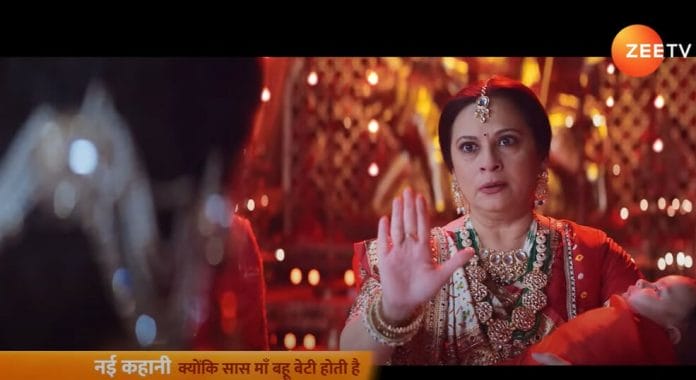 Kyunki Saas Maa Bahu Beti Hoti Hai Upcoming Story, Spoilers, Latest Gossip , Future Story, Latest News and Upcoming Twist on Justshowbiz.net
The episode starts with Kesar saying to Ambica that Suraj agreed to marriage with her because she chose her for him and Kesar is thinking that this relationship might become a burden to Suraj after the marriage. Ambica asks Kesar not to worry about it and makes up a reason for it. Ambica later leaves from there.
Hetal comes to Rajgaur mansion and greets Jayanthi. Hetal sees Ambica going to Suraj in a hurry. Hetal takes Jayanthi and Jinal to Suraj's room.
Ambica asks Suraj if it is true that he is doing this marriage only because she chose Kesar for him. Ambica says Kesar overheard his conversation when he was talking to Ansh and others. Suraj says to Ambica that what Kesar heard is right. Ambica says to Suraj that he needs to accept Kesar wholeheartedly. Suraj asks Ambica how is it possible as he was away from here for 20 years. Suraj says all he knows about Kesar is that she is well educated, behaves maturely with the family and says this is enough for him. Ambica says this is not enough for her and says she wants for him to accept Kesar wholeheartedly. Suraj says it will take some time for that and says arranged marriage happens like this all the time. Hetal, Jayanthi and Jinal eavesdrop on their conversation. They later leave from there.
Kabir and his friend talk about Kabir's marriage. Kabir says to his friend that he will do anything to break this marriage. Kanir gets a call from Queen. Queen says if he is busy with wiping Kesar's tears how will he able to do his job. Queen threatens Kabir that if he didn't bring Kesar to her within the specified time then she will bring Aarthi to her.
Ambica comes to Leela and says to Leela that they need to stop this engagement from happening as Suraj is only doing this marriage because of her and he doesn't have any feelings for Kesar. Leela says to Ambica that she already know it. Ambica asks Kesar why didn't she tell her about this. Leela says to Ambica that husband and wife love each other after the marriage in arranged marriages. Ambica says to Leela that if both of them don't accept this marriage wholeheartedly then their marriage will not be strong. Ambica decides to stop the engagement. Leela objects to it and says to Ambica that she will not allow her to destroy Rajgaur's family reputation by stopping this engagement.
Hetal talks with Jayanthi and Jinal about what they heard outside Suraj's room. Hetal thinks this is a chance to pressure Ambica to make her choose between her Sankalp and happiness of her children. Hetal says Ambica will definitely choose her children's happiness.
Ambica comes and says to Kesar that she was right. Ambica says Suraj is only doing this marriage thinking of it as a responsibility. Kesar sees Ambica worried and calms her down.
Kesar reacalls what happened and thinks she needs to wipe off Ambica's worry. Kesar goes to Suraj.
Kesar meets Suraj and says to Suraj that she said to Ambica about what she heard as she is worried this marriage might become a burden to him. Suraj says it is his responsibility to complete Ambica's resolution as her son and says this marriage will never become a burden to him. Kesar asks Suraj if he will do this engagement if they were met someplace else and his mother didn't choose her for him. Suraj says no and says he doesn't know her and says he doesn't feel any connection with her. Suraj says his mother chose Kesar for him and her mother's decision can never be wrong. Kesar says she also trusts Ambica's decision.
Hetal and Jinal come to Ambica and they both say to Ambica that Suraj is doing this marriage because of her and not because he likes Kesar. Hetal makes a comment on this marriage.
Episode ends.