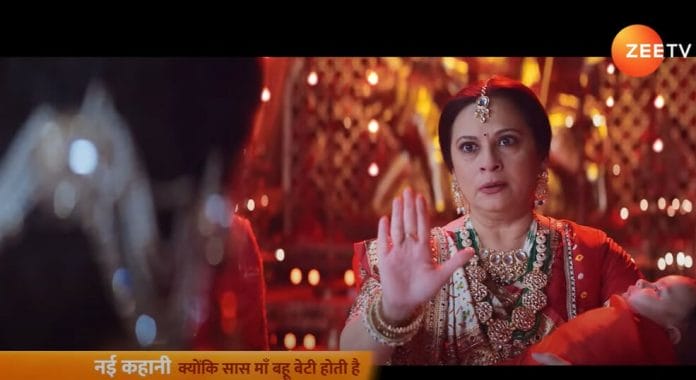 Kyunki Saas Maa Bahu Beti Hoti Hai Upcoming Story, Spoilers, Latest Gossip , Future Story, Latest News and Upcoming Twist on Justshowbiz.net
The episode starts with Kesar giving the diamond to Dinesh for delivery. A debtor comes and demands Dinesh to give him back his money. Kesar catches the diamond that Dinesh drops.
Kesar asks the debtor not to behave rudely with Dinesh. The debtor says to Kesar that Dinesh took Rs 15 lakhs from him and he said he would repay the debt within 2 months but he hasn't repaid the debt till now. Dinesh says to Kesar that he was about to repay the debt but his son in law's family demanded for a car and he bought it for them. The debtor asks Dinesh to repay the debt right away if not he asks them to put something as a mortgage. Dinesh says he doesn't have anything. Kesar asks the debtor to take this diamond as a mortgage. The debtor takes the diamond as a mortgage with Kesar's insistence and leaves from there. Dinesh assures Kesar that he will repay the debt.
Shakuntala gets ready and asks her husband to help her. Her husband makes a comment. Shakuntala commnets on him.
Shakuntala's friend comes to meet Shakuntala. Shakuntala's friend asks Shakuntala what are her children doing? Shakuntala says Kabir went to her friends and Aarthi her daughter went to teach Dandiya. Shakuntala later talks about the Rajgaur family. Shakuntala thinks Kesar is going to do something that will create a rift in that family.
Kesar is shown to be preparing a break fast for the whole family. Ridhi and Ansh smell the food and feel hungry. Ansh, Ridhi, Jayanthi, Darshan and Jinal come to the breakfast table. Mohan the chef says to the family members that today's breakfast is made by Kesar. The whole family stops eating hearing this.
Kesar asks the whole family to eat some food and says she made everyone's favourite. Jinal thinks Kesar mixed something in the food and asks Kesar to taste the food first. Kesar agrees and says she will taste the food.
Parin gets to know about Kesar giving a diamond to a debtor. Parin comes to the dining table and asks Kesar how dare she do that? Parin tells the whole family about Kesar giving the diamond to a debtor and says they suffered a loss of Rs 15 lakhs. Kesar says there will be no loss and says she already thought about it and says they will also get the diamond. Parin asks Kesar how will she get back the diamond? Kesar puts forth a condition that all of the family needs to eat food and says only then she will tell them her solution.
All the family members eat food at Parin's insistence. Kesar says to Parin that they are going to give the debtor Rs 15 lakhs and take back the diamond. Kesar says they are going to cut Rs 25000 from Dinesh's salary of Rs 50,000 and keep it with themselves. Kesar says it will take 5 years for that money to be repaid. Parin and other family members still raise objection to it. Kesar later says they are going to invest Dinesh's yearly income in land. Keasr shows the news article in which they say the government has decided a build a smart city 15 km far away from Surat. Parin thinks if they invest rs 5000 right now they will get rs 500000 in return after 5 years and says to his family about it. Jayanthi after hearing Kesar's solution leaves from there. The whole family leaves the dining table after that. Kesar feels happy as the whole family ate the food that she made.
Kesar asks Leela if what she wants to eat? Leela says to Kesar that they only ate food today as Parin wanted answers and says she hopes for a day that the whole family will eat Kesar's food wholeheartedly and leaves from there.
Kesar asks Ambica if she did something wrong. Ambica says she didn't anything wrong and says this is a small win for her and asks Kesar to enjoy it.
Episode ends.