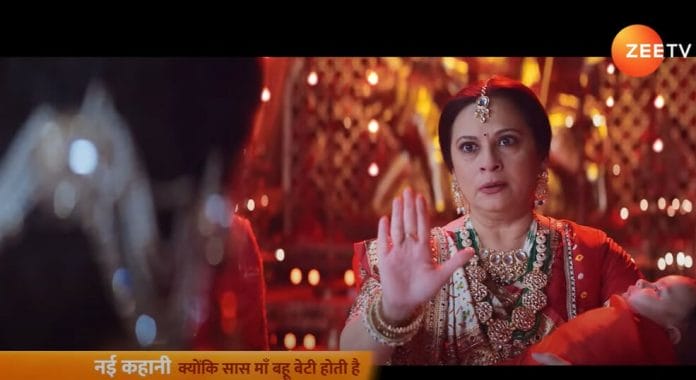 Kyunki Saas Maa Bahu Beti Hoti Hai Upcoming Story, Spoilers, Latest Gossip , Future Story, Latest News and Upcoming Twist on Justshowbiz.net
The episode starts with Kabir and his band playing music in Dinesh's daughter's marriage. Kesar comes to Dinesh's daughter's marriage and congrats him on his daughter's marriage. Kesar sees Kabir's singing in Sonam's marriage(Dinesh's daughter). Kabir sings Bada Pachtavoge song in Sonam's marriage. The Groom asks Kabir to sing a romantic song in the marriage, not a breakup song. Kabir still sings a breakup song. The Groom asks Kabir why is he upsetting the marriage by singing this song.
Kabir says Sonam likes this song very much. Kabir asks Rithvik not to wipe off the tattoo on her neck as it is a symbol of their love.
Kesar asks Kabir what is he doing? Kesar tries to stop Kabir from creating a drama. Kabir cooks up a story of him and Sonam loving each other and says to everyone about it. Kabir also shows the tattoo on his chest as proof that he loves Sonam.
Rithvik the groom seeing this breaks off the marriage and leaves from there with his family. Dinesh thinks his reputation went down the drain.
Kesar convinces Dinesh to do Kabir and Sonam's marriage as they love each other. Dinesh also gets convinced with Kesar's convincing and agrees to the marriage.
Kabir says to Kesar that he loves Sonam as a brother and asks Sonam to tell the truth to her father. Sonam says to Dinesh that she didn't like Rithvik's match from the beginning and that's why she made Kabir swear on her to stop this marriage. Dinesh thinks who will do marriage with her daughter? Nilesh steps forward and says he will do marriage with Sonam as he loves her. Dinesh also agrees to both of their marriage with Kesar's convincing. Sonam and Nilesh get married.
Kesar asks Kabir why couldn't he try to stop Sonam's marriage the right way? Kabir makes up a reason for it. Sonam comes to the marriage and starts beating up Kabir with a broomstick thinking he really loved someone and is about to do the marriage without her permission.
Kabir's friends pull him into a van. Kabir thanks his friends. Later Kabir realises that he has been kidnapped along with his friends as there is a guy pointing a gun towards them.
Kesar says to Ambica about it. Ambica laughs hearing about it. Suraj calls Ambica at this time and she asks Kesar to put the phone on speaker as there is oil to her hands. Kesar puts the phone on speaker and talks to Suraj.
Suraj hearing Kesar's voice cuts the call. Ambica says Suraj might be busy.
Leela says to Ambica that it's time they will find out if her Sankalp will come true or not? Ambica says Suraj and Kesar are going to get married when they are both ready for it.
Episode ends.