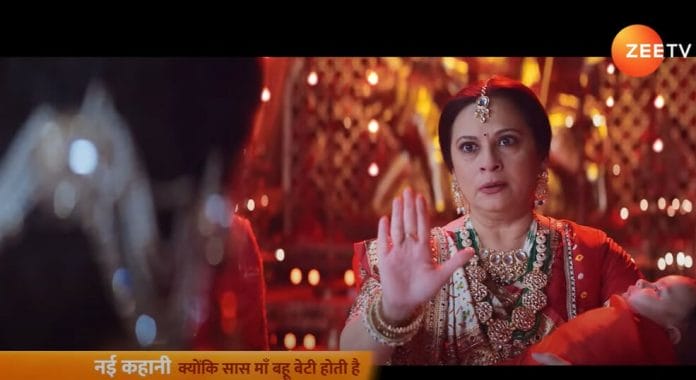 Kyunki Saas Maa Bahu Beti Hoti Hai Upcoming Story, Spoilers, Latest Gossip , Future Story, Latest News and Upcoming Twist on Justshowbiz.net
The episode starts with Kabir trying to explain to Hetal but Hetal slaps Kabir and interrupts him. Hetal scolds Kabir and is about to hit him again but Shakuntala stops him. Shakuntala comments on Hetal. Kabir stops Shakuntala and says to Hetal that he and Kesar are just friends and nothing more than that. Kabir says she just misunderstood them. Hetal says Suraj is going to come and decide if Kesar did something wrong or not.
Ambica sees Suraj and recalls what happened. Suraj prays to God and hugs Ambica after taking her blessings.
Hetal tries to complain to Suraj about Kesar but he stops her. Suraj asks Kabir what happened. Kabir says to Suraj that he was trying to talk to Kesar and he caught Kesar when her clothes were about to be burnt. Kabir says Hetal, Jayanthi, and Jinal saw them and misunderstood them. Suraj says to Hetal that he is telling the truth. Hetal asks Suraj if he is believing outsiders over her. Suraj says he knows how to read people.
Suraj comments on Hetal and shows everyone the balance sheet of Hetal and Dinesh company and says it has gone completely bankrupt. Suraj also says the investor who supported and stopped her house from being sold is Ambica. Suraj comments on Hetal and says she doesn't need to steal other people's place to stay here.
Hetal complaints to Leela that she just wanted to make sure that Kesar didn't do anything wrong and everyone is misunderstanding her. Hetal says she is going to leave. Kesar stops Hetal and asks Hetal to do the Gowri Pooja and break her fast. Hetal stays back.
Shakuntala sends all of her husband's customers and closes the barbershop. Shakuntala asks her friend to do a massage to her. Shakuntala later asks her friend to see a match for Kabir. Shakuntal's friend says she has a match for her son. Shakuntala hearing this thinks she is going to be rich soon.
Suraj comes to Kabir and thanks Kabir as he saved Kesar 8 years ago. Suraj says if something happened to Kesar at that time then Ambica wouldn't be able to forgive herself. Kabir asks Suraj not to mention it. Suraj asks Kabir to stay away from Kesar. Kabir asks Kesar if he is going to marry Kesar for his mother or for Kesar. Suraj says it's none of his business. Kesar overhears their conversation.
Kesar comes to her room and recalls what happened. Kesar thinks what did Kabir wanted to ask?
Suraj comes to Ambica. Ambica says to Suraj how much she missed him these days. Suraj wipes Ambica's tears and asks Ambica not to cry. Ambica says these are happy tears. Suraj puts his head on Ambica's lap and goes to sleep.
Ambica sees Kesar distracted while preparing tea in the kitchen the next day. Ambica asks Kesar what is she doing? Kesar says she was distracted with something. Kesar prepares Adrat wala chai Suraj's favourite. Kesar offers tea to Suraj. Suraj says to Ambica he wants to drink tea with her hand. Kesar understands and takes back the tea. Ambica says to Suraj that she will prepare tea for him in a minute.
Episode ends.